Wild fruits make a comeback in diets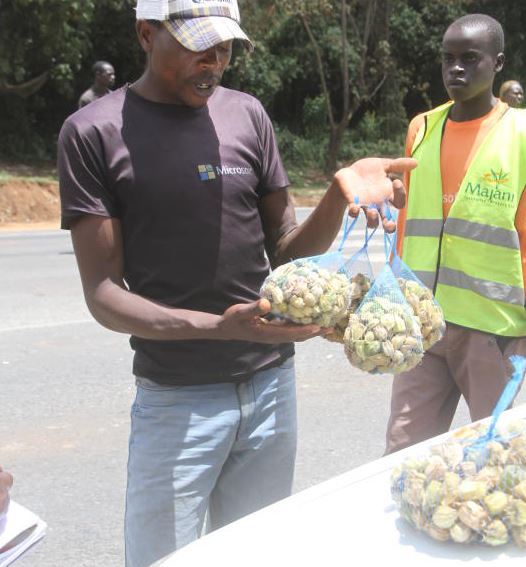 With three bundles of Cape gooseberries dangling from his fingers, Chacha Rioba stretches his arm as a vehicle approaches on the Nakuru-Eldoret highway.
The car slows down and Mr Rioba is swiftly joined by four colleagues in thrusting the wildfruits inside the driver's open window. They all hope for a sale.
It's nearly 11am and Rioba manages to sell his eighth bundle for Sh50, making for a good morning by any standards.
Cape gooseberries are small orange berries that originated from the Cape of Good Hope in South Africa but are presumed to have been brought into the country by migrating birds.
The fruit, commonly known as nyamtonglo(Luo), nathi (Kikuyu), chinsobosobo (Kisii), ngondu (Kamba) and chelolo (Kalenjin) is fast becoming a favourite in urban areas.
Rioba and his colleagues pick the Cape gooseberries from Koibatek Forest, which also teems with wild blackberries and passion fruit.
"For the past three years, we have been sourcing these fruits from the forest and people have been purchasing them in bulk," said Rioba said.
Daily orders
On a good day, Rioba and his colleague, James Momanyi, said they could pocket Sh2,000 from the fruits while quiet days saw them take home at least Sh500. They said they got daily orders from customers who often bought the fruits in bulk, with others even paying in advance.
"Everyone loves wild fruits and the market is good. We have also started planting them in our homes as an alternative to those we source from the forests," Mr Momanyi said, adding that the fruits were seasonal.
With food experts advocating commercialisation of the fruits due to their nutritional value, it is no wonder they are in such high demand.
According to researchers, Cape gooseberries are an excellent source of vitamins A, B, and C. The berry is also rich in protein and phosphorus.
Egerton University's head of research, Paul Kimurto, said the rising demand for wild fruits and traditional vegetables was driven by the rise in lifestyle diseases. Wild fruits, he added, played a role in boosting immunity.
"The re-emergence of traditional vegetables and fruits in the market is the result of awareness on the need to live a healthy life," Prof Kimurto said. He noted that although more farmers were venturing into large-scale production of traditional vegetables, obtaining the seeds of wild fruits was a problem.
"The informal seed system is the biggest challenge currently. There are no scientific programmes in place to propagate the seeds for commercialisation. Investing in the venture is a good opportunity," Kimurto said.
Nelly Oduor, a senior research scientist at the Kenya Forest Research Institute, said because the wild fruits were seasonal, it was important to train farmers on value addition to ensure constant supply.