How tiny Chinese mobile firm,Transsion holdings beat out global giants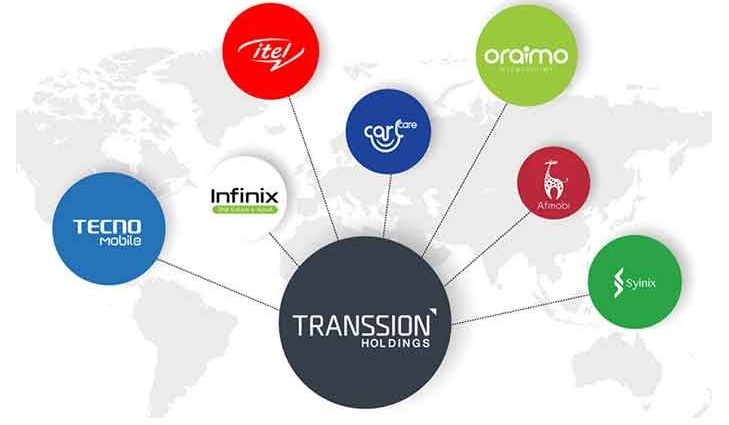 The pattern most international investors follow when setting up in Kenya starts with picking an upmarket location for its offices in Nairobi.
They pick a leafy suburb with a view and amenities like a good Internet connection, as well as easy access to the city's major hotels where they can host guests, including their colleagues and bosses from the head office.
They then hire a local firm to distribute their products in Kenya and do other heavy lifting.
This, however, was a path that Chinese mobile phone maker Transsion Holdings – better known for its popular brand, Tecno Mobile – deviated from, perhaps because of the shoe-string budget the firm was working with when it started out.
The company set up its first sales office on the second floor of Luthuli Complex along Luthuli Avenue, a street that few would disagree is the capital of electronics – both counterfeit and genuine – in Kenya.
This was in 2008, just two years after the company commissioned its plant in Shenzhen, China, and was now looking for a way to distribute its products in Africa, with Kenya being among its first ports of call.
The launchpad
A Chinese trader setting up shop today on Luthuli Avenue will attract a different vibe given that area business owners feel foreign traders (mostly Chinese) are getting into an area that should be exclusive to Kenyans.
But it's from this chaotic street, with its cacophony of sounds and heavy matatu traffic, that Tecno found a foothold that it used to launch its success in the Kenyan market and the rest of Eastern Africa.
It started with the sale of its Tecno brand, which comprises a mix of feature and smartphones. It then moved on to Itel, a brand of feature phones, and Infinix, a variety of smartphones.
In under a decade, what was once a nondescript firm has now risen to become the largest seller of mobile phone handsets in Kenya, with its three brands accounting for more than a third of the handsets sold in the country.
According to the International Data Corporation (IDC), brands owned by Transsion – Tecno and Infinix – accounted for a third of the phones sold in Africa last year.
The firm is the dominant feature phone maker, as most other manufacturers have slowed down on making entry-level devices in favour of chasing the smartphones market.
Tecno and Itel accounted for 57 per cent of feature phones sold in Africa.
"In terms of the vendor landscape, Transsion brands continued to lead the smartphone category in Q4 (quarter four) 2017, with 30.4 per cent share, followed closely by Samsung on 27.0 per cent .… In the feature phone space, Tecno and Itel – both of which are Transsion brands – continued to dominate in Q4 2017, with a combined share of 57.2 per cent," said IDC in a recent report.
"The Transsion Group maintains its top position by designing attractively priced devices that address the specific needs of each local market – a strategy the group proudly refers to as its 'glocal' approach."
In Kenya specifically, Transsion says it has a market share of 36 per cent in the smartphone category. This is even higher in the feature phone market, where Tecno and its sister brand Itel dominate the segment.
Growth path
"We started our focus in Africa in 2008 as a little Chinese firm without muscle, but we've now grown," says Dickson Ireri, the head of retail training and the B2B unit at Tecno Mobile Kenya.
"Our growth path in Kenya mirrors our journey from Luthuli Avenue to where our offices are now. Our managing director was actually doing sales and marketing from a small office on the second floor of Luthuli Complex.
"When I joined, my first interview was in a room full of boxes … it was a small office that served many purposes. In the years that followed, every handset maker came to do the same thing that Tecno was doing in its formative days in Kenya."
The firm has come to dominate the Kenyan, and to a large extent the African, market due to its consciousness of the price sensitive nature of the consumer.
It has since moved its Kenyan officer to a quieter part of the city at Cardinal Otunga Plaza on Koinange Street. However, it retains the Luthuli Complex office as a service centre.
Its employees, both permanent and on contract, have grown from under a 100 in 2008 to more than 1,000 today. "Africa was our major focus and we started out in a few countries like Kenya, Uganda and Nigeria, but we've now grown to 40 countries across the globe," says Dickson.
"Tecno is a phone that was built with Africans in mind. It offers solutions that a Kenyan identifies with and it's also innovative and stylish, but at an affordable price. Consumers want a phone with a long battery life and good camera at a competitive price."
While Africa still accounts for a large share of its revenues, the firm has since expanded to other regions, including the Middle East, Latin America (Colombia), and Asia (India, Pakistan, Thailand and Bangladesh).
"The notion then and even now, is that Chinese phones are substandard, but that's not the case. If you look at the devices in the market now, they're almost all from China," says Dickson.