Why I switched from food handouts to computer classes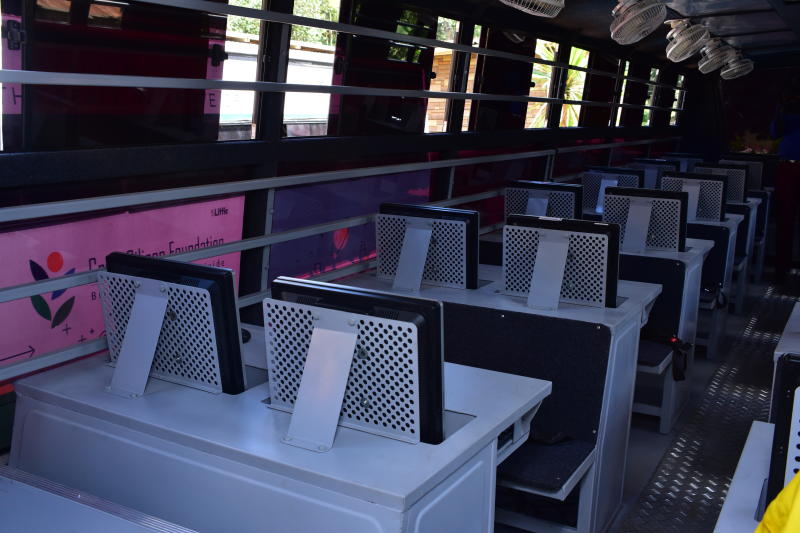 NAIROBI, KENYA: In 2000, Priya Budhabhatti started a computer literacy programme to empower communities in slums areas in Nairobi. Now eight years down the line with 9,500 having trained and benefited, the programme has spread its wings to Uganda.
Priya tells Hustle how she started out.
Why did you start a computer literacy programme?
When I launched the programme, Kenya was becoming increasingly attractive as an ICT hub with international technology companies moving in with investments. Among the rapid technological changes happening in Kenya at the time included the shift from analogue to digital broadcasting, transition from satellite to fibre optic connectivity and the adoption of e-commerce technologies. That meant youth in the slums and marginalised areas without computer knowledge risked missing out on new ICT opportunities - in government, healthcare and education, among other sectors.
Was this your childhood dream?
Not really. l was born and brought up in South B, Nairobi. As l struggled through my early education at Kongoni Primary School, l learned of the tough lives in the slums - mostly lack of foodand other basic requirements. I promised to work hard and assist those in slums in any way l could. I kept thinking about it even through high school. However, l realised things were not going well for me when I couldn't get into university due to lack of fees.
So, you never joined college?
Not for the first two years after high school. Luckily, l got a job as an untrained cashier with Equity Bank, then a microfinance institution. I would trek to and from town, till l got my first salary. Istarted saving and later joined evening classes at the Nairobi Computer Data Centre, pursuing a diploma in ICT. It was while working at Equity that l met my would-be husband, Kamal Budhabhatti, a software developer. He had come to do some business with the bank. Kamal later started Craft Silicon Company. l quit my job at Equity and joined him to manage the company. After around three years, the company started making some profit and this revived my hope to start helping those in the slums. I shared and convinced my husband to take up the idea as corporate social responsibility. He donated some money that l used to purchase foodstuff for needy children in the slums of Kawangware, Kibera, Waruku, Mathare, Huruma and Kangemi, especially during Easter and Christmas holidays. I named it Craft Silicon Foundation.
How did you make the leap from donating foodstuff to computer literacy?
After several visits, l realised food was not the solution as it only lasted one or two days. Since our company dealt with ICT, l decided to offer knowledge along that line. One day during a fooddonation event, l engaged the parents and told them that instead of food, l was starting computer classes for their children. They only needed to come for classes at the company in Westlands.
How was the reaction?
The parents were happy and promised to cooperate. We enrolled several students who started attending the computer classes. However, after some time l realised most were not attending because they couldn't raise bus fare to come for training. The programme was almost collapsing.
How did you intervene?
Being my pet project, it got me thinking how to manage the bus fare issue. My immediate solution was to give fare to all the students. But still, some would use the money for food in their homes and other things. It is then that an idea to get the training to their doorstep came to mind. The challenge was building classes, equipping them with computers and employing teachers in all the seven slums. However, getting land was a problem and there was the risk of losing equipment to theft. Then the idea of the computer bus struck. It was the lasting solution. The company donated over Sh10 million to build and equip the mobile computer bus.
What is this computer bus?
It's a bus fitted with computers, specialised servers, education courseware, Internet connectivity, printers and scanners. It is powered by solar panels. The bus moves through slums of Kawangware, Kibera, Kangemi, Mathare, Huruma and Waruku on specific days of the week. It makes accessibility easy for students.
How's the training done?
The classes are conducted in three sessions: mornings, mid-morning and evening. Each class accommodates 36 students at once - and 108 in a day. One must have sat either primary or secondary school exams to qualify. We also have students who are already pursuing similar or different courses at the university. The programme involves elaborate and intensive three-month basic and six-month advanced training in ICT, business communication skills, leadership, software development, web design, graphics design, business and entrepreneurship.
What has the programme achieved thus far?
The beneficiaries of the programme are now creating jobs. Our company also employs the top performers, while others are linked to friends and clients for employment opportunities. Many youth have started small jobs, others manage cyber cafes after we provide seed capital for starting small business enterprises.
You have just flagged off another mobile computer bus to Uganda…
As we managed the computer literacy programmes in Kenya, several people from Uganda saw it and have been sending requests to get the same programme. They actually thought l am a multi-millionaire whose work is to donate to such projects. After they knocked on my door, l felt the need to do something. Finally, we have a bus heading to Uganda. This is part of our growth strategy in the East African region.
Any challenges?
Since the training is free, we get lots of students who want to join, but have to tell them to wait till others complete. Some students get a chance to study but drop out. Finance is also another issue. People across the counties are also calling requesting for similar projects.