Where will the hustlers live?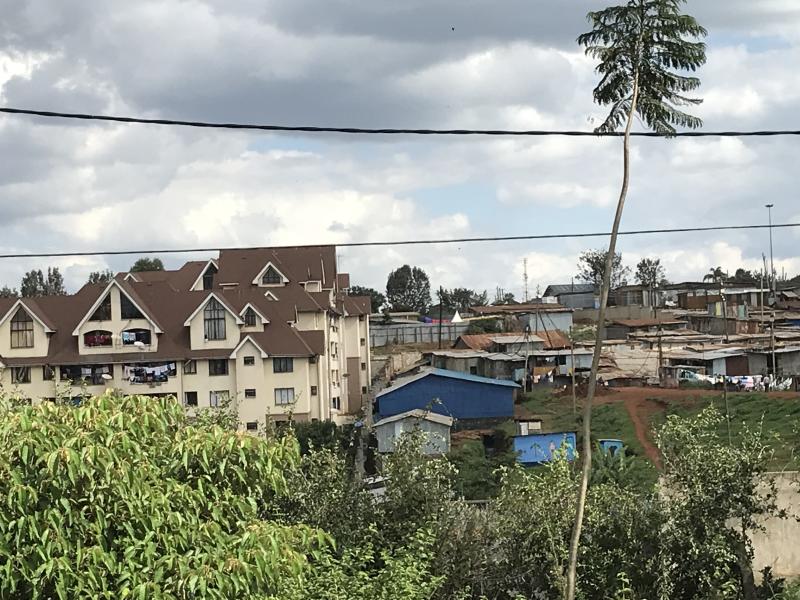 Pangani, Ngara, Kinoo, Kikuyu, and other old residential places are slowly shedding off their old image. They are now home to multistoried buildings, clean and modern. In Kibera, high-rise buildings are replacing the mabati slums.
In Kangemi opposite Vetlab Sports Club, the old mabati slums are giving way to modern apartments, some in the middle of slums. Is the end of slums near? Where will the hustlers go?
Needless to say, some Kenyan slums sit on some very lucrative land. They are near the city, and sit on 'free land' often with no clear ownership. It was only a matter of time before entrepreneurs made their move. Once they build apartments, they put them on sale - since the hustle of letting seems too much. With time, slums dwellers are being replaced by the middle class, who are occupying the better housing in their former residencies. House prices keep going up, thanks to shortage. Rarely have incomes kept pace with house prices leading to 'downgrading' of residencies to keep up with inflations. The other way to keep rents low is to overcrowd houses as in the case of Githurai or Zimmerman.
Interestingly, it is not just the slums gentrifying, the city suburbs near CBD are undergoing the same, just visit River Road or Ngara.
Hustlers have two choices after the slum upgrade. They can work harder and move into upgraded houses or move out to cheaper places in outlying areas like Muchatha, Athi River, Ruai, Uplands, Kibiku or Kenol and other 'new' towns. The outlying areas are being upgraded to take care of spillovers from Nairobi. In the long run, everyone benefits. The outlying areas get a facelift and slums start disappearing.
It seems all the efforts the government has put into place to do away with the slums since uhuru have left the slums intact. The market seems more successful. One trick I found quiet ingenious is financiers approaching landowners in outlying area, and building apartment in partnership. The land owner is paid by owning some apartments, the rest are sold with financier getting their cut and moving on.
The market has finally succeeded in going over traditional barriers like access to ancestral lands. I'm told the death of the original land owners might have accelerated redevelopment with inheritors more interested in money than the sentimental value of the land. That has freed land to be what it ought to be - a factor of production.
We should not really worry about the next home for the hustlers, the market though imperfect will take care of them. We are waiting to see how housing as part of the Big 4 will caution hustlers against the market failures. The housing in the Big 4 should target sufferers. The market will take care of hustlers and upper and middle class. What do you think?