Concerns over delayed graduation as online classes fail to address effects of Covid-19 disruption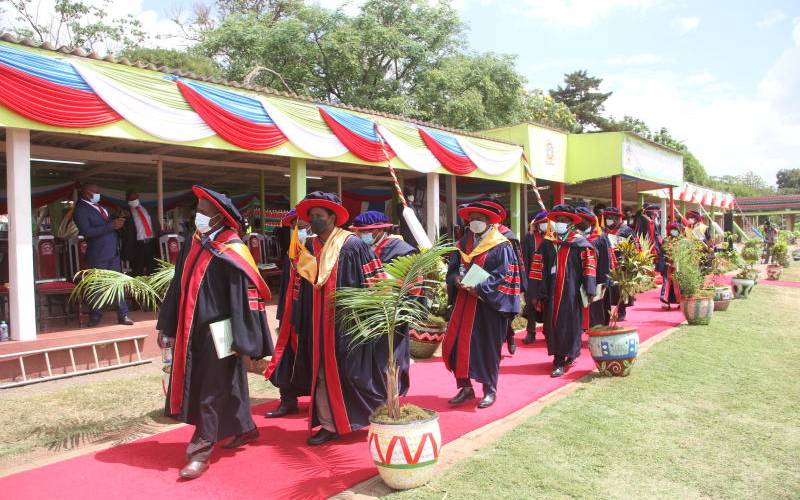 Measures introduced by universities to address the effects of the disruption caused by the Covid-19 pandemic are yet to bear fruit.
Education Cabinet Secretary had asked the universities to ensure a return to normalcy by January 2023.
Most universities introduced online classes and distance learning and modified the academic calendar by introducing the trimester system to speed the completion rate. However, disparities in models of studies stand in the way of achieving this.
Teaching practical units in medicine, pharmacy and engineering courses could not be done online. Students had to defer practical units until face-to-face learning resumed later in 2021. Moreover, such courses require learners to break for a long holiday before the start of the new academic year.
For instance, Brian Mwachi, who is doing a five-year degree in Pharmacy at the Jomo Kenyatta University of Agriculture and Technology joined the institution in 2018. He would have graduated this year. But he is now in his third year of study, five years after enrollment. His situation is even worse because he had to stay out of school for additional time.
"In 2019, I was out for two semesters because of fees arrears. Then came the pandemic. I went one academic year behind the group that I joined with in 2018," the 23-year-old said.
During the pandemic, the College for Health Sciences (COHES) introduced online classes for theory units. Still, he and most of his classmates could not enroll. Those who attended the classes merged into a separate group after lockdown. The college then introduced a long holiday to relax during the interval. Mwachi is now two years behind.
He is not alone. Ng'ang'a Brian from Egerton University in Nakuru is set to graduate in July after studying for four years for a three-year course.
However, his extension period was a bit fast because his faculty offered a trimester programme. A trimester is a university academic year that has three semesters. Students who are enrolled in the programme complete their studies faster than students enrolled in a two-semester system.
According to Prof Hellen Mberia, Dean of School of Communication and Development Studies at JKUAT, the trimester system failed because it is not suitable for all learners.
"Some students need a long holiday because it allows them to rest after two concurrent semesters. Secondly, they get a chance to put the theory learned in class into practice by going for attachments and internships. The number of attachments is more than one for some medical and engineering courses," she said.
While the trimester system helps in speeding the completion rate of students, for most public universities, it cushions them from financial burdens in the face of reduced funding from the exchequer.
"The trimester system was introduced for early completion so that students can join the job market quickly. But the less popular reason is that universities use the trimester to make money. Money flow is guaranteed since funding from the government is not enough," she said.