Faceless brewers of 2, 000 hot drinks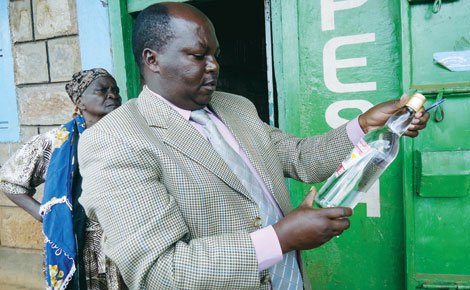 Interdicted Kigumo deputy county commissioner Albanso Ndiso examines one of the killer brew seized by police officers at Kirere market. [PHOTO: BONIFACE GIKANDI/STANDARD]
By JAMES MBAKA
Kenya: Kenya has more than 2,000 brands of cheap and potentially deadly alcoholic drinks, it emerged Friday as five more people died from consuming brews laced with methanol. This raises the death toll to about 90.
Details of the cheer number of brands and revelations that the Government does not have the number of firms making the brews, pointed to a lucrative underworld business that happens with little regulation.
It is a cutthroat venture for quick riches that pays little respect to human life, right from the manufacturers to law enforcement officers who should ensure drinking hours are observed and that unlicensed drinks are not sold.
Chief public health officer Dr Kepha Ombacho yesterday told The Standard on Saturday the estimate is based on brands found during raids in various parts of the country.
Three people died in Mwala location in Machakos County while two others were confirmed dead in Kikoko area in Makueni County after allegedly consuming the toxic drinks.
The National Agency for the Control of Drug Abuse (Nacada), Kenya Bureau of Standards (Kebs) and the anti-counterfeit agency are the three major Government agencies tasked with regulating the alcoholic drinks industry and are expected to know the manufacturers of all beer.
However, according to Ombacho, many firms are using licences acquired for other purposes to distil brews. Some brands on sale did not have the name or address of the manufacturer, making it difficult to trace the individuals behind them.
Kenya Revenue Authority (KRA) on its website has a list of 38 alcoholic drinks making companies licenced last year. These are companies with KRA PINs and are expected to file tax returns and are expected to apply for renewal later this year.
However, from calculations, it is clear that more than 38 firms are involved in the brewing of the brands, which mostly target Kenya's poorest people.
Each firm would be making up to 52 brands to make for the 2,000 different brands now estimated to be in the market.
Powerful brewers
Officials said some of the raw materials for the manufacture of the illicit brews are imported from neighbouring countries, in an effort by the merchants of death to circumvent the law. These countries were named as Uganda, Malawi and South Africa, as supported by an investigation carried out in 2009.
Infighting between Nacada chairman John Mututho and CEO Dr William Okedi has not helped matters.
Friday, Mututho conceded that some senior officials were shielding some all-powerful brewers and hampering efforts to register all brewers, distributors and their brands.
He said a recommendation to register manufacturers was never effected. Following the deaths, however, a toll line had also been established where Kenyans could report illicit brewers.
Worse, the Government does not seem to know the firms involved. It is only in March that the Ministry of Public Health started profiling these firms, by asking them to forward samples for analysis.
It is this lawless jungle that has left brewers to make dangerous drinks. In the current crisis, some of the brews consumed were found to have 100 per cent methanol; an industrial solvent poisonous to living beings.
Although the advert said the request was for analysis, Dr Ombacho said it was "bait" to know the number of drinks and brands out there.
"This was part of the ministry's plan to know the exact number of alcohol manufacturers and their brands because we have not had the data of the types of alcoholic drinks. Those who failed to submit is a confirmation of the fact they are operating illegally," Dr Ombacho said.
The Government had been provided with details of 384 brands, whose analysis is ongoing.
Population explosion
However, Nacada whose CEO Okedi was interdicted on Thursday, collaborates with Ministry of Health and county security committee in the issuance of licences for the manufacturing, packaging, sale and distribution of alcoholic drinks.
Bar owners said the business is a gravy train for greedy police officers who allow them to flout rules for a fee.
In Nairobi, a Standard on Saturday crew saw police officers collecting bribes from bar owners in Kasarani, Roysambu and Zimmerman on several occasions this week.
According to bar owners, the two groups of armed regular and Administration Police officers collect Sh50 each night from every pub. However, they said another group that drives a Land Cruiser collects Sh200 from the pubs every Friday night.
The money is meant to allow them to operate after 11am, the time stipulated by the law.
Kasarani OCPD Augustine Nthumbi said the matter had not been reported to him. "That is just talk in the village. I can only know it is happening if a formal report is made," he said.
In Donholm estate, one bar owner who declined to be named said police collect Sh50 or Sh100 each night. Asked what the criteria was to determine who pays what amount, he said: "They don't have a formula. It is just a tradition."
However, it was clear that some of the licensed manufacturers have no way of determining alcohol content. In Kirinyaga County, a brewer said although labels on his drinks showed they had 40 per cent alcohol by volume, he had not used any scientific method to arrive at the figure. His distillery is based at his home.
"This is what I see in most whiskeys in the market, I have nothing to verify the alcoholic content. But I don't think this is an issue since even the government officials have never questioned me," said the trade, who did not wish to be named.
"The industries concerned in the manufacture of the illicit wines and spirits enter Kenya through the ports particularly Mombasa and Busia and that they have fake KRA and Kebs Stamps and are uncustomed," reads in part the circular to all security and health officials signed by Ombacho.
An official at Nacada said some brands in the market could have been manufactured illegally by unregistered companies.
— Additional reporting by Daniel Nzia and Onesmus Nzioka