Governor Kinyanjui condemns violence against DP Ruto in Kondele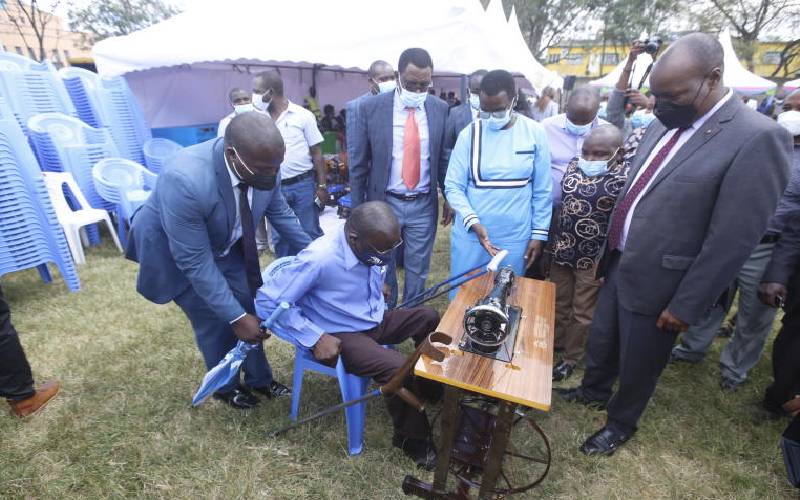 Nakuru Governor Lee Kinyanjui has called for political tolerance across the country as politicians traverse the country ahead of the 2022 General Election.
Governor Kinyanjui condemned the violence that led to the disruption of Deputy President William Ruto's campaign at Kondele in Kisumu today.
The county boss said the escalating violence and use of intimidation in the political arena is unacceptable.
Speaking after distributing equipment worth Sh27.5 million to Persons Living with Disability (PWDs) at Shabab social hall in Nakuru, Kinyanjui termed the incident as primitive and called on Kenyans to be accommodative and allow leaders to campaign in any part of the country.
"The rule of law must be applied on lawbreakers without fear or favor. I call upon the Interior ministry to apprehend those involved", he said
The governor called upon leaders not to use words that encourage violence and fuel animosity.
Kinyanjui pointed out that ODM leader Raila Odinga's warm reception in Mt Kenya is an example to emulate in another region, that any politician is free to traverse anywhere.
"There was word going around that Raila was unsellable in Mt Kenya. That has changed now. Let us allow all leaders to move around the country," said Kinyanjui.
He also condemned school unrest that has led to dormitory fires in several schools across the country.
Kinyanjui attributed the incidents to the curriculum overload, saying it was putting the children under extreme pressure and not giving them time to rest.
"When you put too much pressure on a human being, certain things are bound to come. It is important for the Education ministry to address the problem."