Uhuru seeks end to judicial activism in KRA's tax collection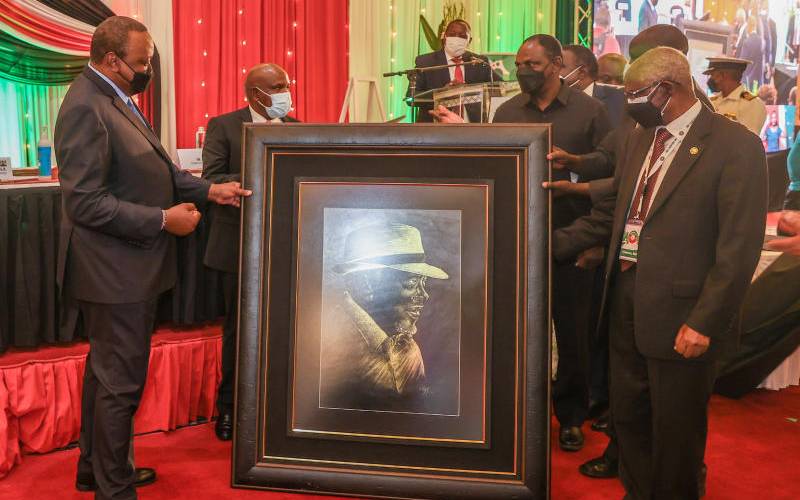 President Uhuru Kenyatta wants Kenyans to slam brakes on judicial activism and allow the Kenya Revenue Authority (KRA) to collect taxes passed by Parliament.
Speaking yesterday during the taxpayers' award ceremony in Nairobi, the Head of State said judicial activism is stalling the collection of taxes meant to fund key programmes such as infrastructure.
"I wish to call on all parties to stop judicial activism and allow us to proceed with the measures that we put in place and have been approved by Parliament and to allow Kenyans to be beneficiaries in this year of recovery," said the President.
The remarks come on the back of several rulings that have stopped KRA from implementing various tax measures passed by Members of Parliament, including in the Finance Act.
KRA was for on September 20 stopped from collecting the minimum tax of one per cent on gross turnover of businesses after the High Court declared the tax as unconstitutional.
The High Court said the application of the tax was in violation of the principle of fair treatment, particularly for businesses in a loss-making position. The ruling followed a petition by several affected and interested parties who sought relief from the implementation of the minimum tax saying it would have adverse effects on their businesses.
Kenya is keen on collecting more taxes to cut the gaping budget shortfall that has seen total borrowings surpass Sh7.74 trillion at the end of June 2021, being a 75 per cent rise from Sh4.406 trillion five years ago.
KRA defied the adverse effects of the Covid-19 that resulted in layoffs, salary cuts and business closures to net Sh1.669 trillion collections in the financial year ended June 2021 from Sh1.607 trillion collected in the previous period.
The latest collection means annual revenue collection has more than doubled within a decade. About Sh707 billion was collected in the financial year 2011/2012.
President Kenyatta regretted that a country with over 19.6 million registered voters, has just six million individual registered taxpayers.
"It is unfortunate that many of us are demanding better infrastructure, better public service and access to the public good but are not willing to fund the same through registering and paying taxes," said Uhuru.
KRA recently rolled out its eighth strategic plan focused on increased revenue mobilisation through tax simplification, technology-driven compliance and tax base expansion.
The taxman targets to collect Sh6.8 trillion over the period 2021/22 to 2023/2024 financial years - an average of Sh2.266 trillion annually.
"We don't want to be collecting through a hammer. We want to be collecting taxes through facilitation and that is why we allocate October to promoting good relations between KRA and the taxpayers," said KRA Chairman Francis Muthaura. During the event, top taxpayers were presented with presidential awards for the financial year 2020/2021.
Safaricom was awarded as the top large taxpayer in the country while Premier Credit bagged the top medium taxpayer award. Standard Chartered Investment Services bagged the corporation tax yield award for paying the highest corporation tax compared to their turnover.
The most facilitative customer payer award went to the Kenya Trade Network Agency for linking the government and private sector to access customs systems.
UDV Limited was awarded for demonstrating the highest levels of compliance with customs laws while the most facilitative government agency in tax enforcement and recovery award went to Kenya Defence Forces.
Teachers Service Commission was feted top public sector agency for consistently filing and paying taxes across all tax heads and also for paying the highest tax among State agencies.
Evergreen Logistics Corporation was awarded as the top importer and for supporting the State's deconsolidation and clearance of goods at the National Deconsolidation Centre.
The top exporter award was given to James Finlay Mombasa Ltd for handling large volumes of exports and complying with customs laws.
Top taxpayer award in the seven tax regions were also feted. Diani Estate won in the Southern region while that of Central was scooped by Consolata Hospital Nyeri.
Other winners in regional awards include Diocese of Marsabit Registered Trustees (Northern), Busia Sugar Industry (Western), De Ruiter East Africa (South Rift) and Noble Sacco Society (North Rift).