Lethal coronavirus turns 2021 into another lost year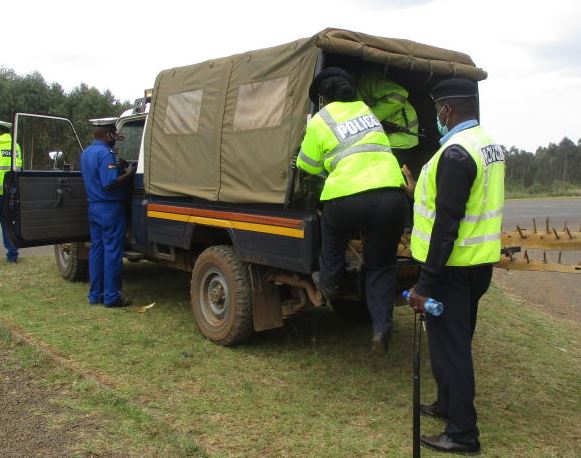 "Time brings all things to pass." That is what the ancient Greek playwright Aeschylus said more than 2,500 years ago. Similarly, Kenyans were hopeful that Time would soon vanquish Covid-19, a crippling disease that was first recorded in the country on March 13, 2020.
But 12 months later, the virus remains undefeated. If anything, it has become even more lethal, turning 2021 into another lost year.
Noting that it will not be until mid-May that the peak of the Third Wave of Covid-19 will flatten, President Kenyatta on Friday announced additional stringent measures aimed at stopping the pandemic on its tracks. Not every Kenyan is happy.
On social media, Kenyans have complained of how political ineptitude has compromised the war against this invincible enemy.
Vaccination
But as the German-American physicist Albert Einstein noted on being asked why the human mind, having been stretched so far as to discover the structure of the atom, it could not devise the political means to keep the atom from destroying humanity, the scientist said: "It is because politics is more difficult than physics."
While scientists developed safe and effective Covid-19 vaccines in record time, the Kenyan government dithered the rollout of the vaccination programme thus denying Kenyans an early return to normalcy.
By end of Saturday, less than 100,000 had been inoculated, against a stock of more than a million doses in the country's storerooms.
But even more annoying for most Kenyans, some who will be forced to go without their daily bread due the new measures, is how a political class that organised huge rallies oblivious of the social distancing rules, can now stand on the moral high ground to implicitly blame them for being Covid-19 spreaders.
Such ineptitude and reports of looting of Covid-19 funds has eroded the little trust Kenyans had in their government, according to Dr Samuel Nyandemo, an economics lecturer at the University of Nairobi.
"All the stimulus packages which were there to cushion the common man never reached the true beneficiaries. And to that extent, Kenyans have lost trust with the Government," said Dr Nyandemo.
For example, Humphrey Meme, the tour director at Kimken Safaris, a tour company, said that he is yet to see anyone of his peers who benefited from the tourism fund that was aimed at helping the hospitality sector to recover.
Those who lost their jobs, close to 1.7 million in the second quarter of last year, must have been filled with optimism as economic forecasters projected that Kenya's gross domestic product (GDP), the value of all goods and services produced in the country, would rebound this year. But this hope, economists say, has been dashed. Instead of the country flattening the curve of Covid-19 infections leading to the lifting of most of the containment measures and setting off a flurry of commercial activities, the wave of infections has risen sharply.
Besides locking down five counties, which together control close to two-fifths of Kenya's GDP, Uhuru also revised the curfew hours from 11pm-4am to 8pm-4am in Nairobi, Nakuru, Kiambu, Machackos and Kajiado counties. This means that business hours have been reduced further translating into fewer transactions. Fewer transactions mean less income and fewer employees or less wages.
For pubs and bars- which were trying to find their footing after a seven-month shutdown last year-there will be no income completely. This is after Uhuru suspended their operations in the five counties, rendering tens of thousands of workers jobless.
Last year alone, over 7,000 establishments shut down, according to the Pubs, Entertainment and Restaurants Association. The hospitality industry which is still reeling from the initial shock of the pandemic was jolted further after the head of state indefinitely suspended the sale of alcohol in restaurants and eateries in the five counties. A lot of hotels have reported massive cancellations for Easter bookings following Kenyatta's directive.
Mr Meme, said he had to cancel and refund some bookings for Mombasa County, following the directive.
And for the international tourism, which he says had started to show signs of recovery as they have been getting several inquiries, if the lockdown goes beyond mid-June when the wildebeest migration happens, the impact will be massive.
Moreover, restaurants and eateries will provide takeaway services only.
Dr Joy Kiiru, an economics lecturer at the University of Nairobi, insists that the Government's decision was "disruptive" especially to businesses which had just incurred fresh financial commitments to restock their businesses.
Noting that the Government overreacted on the revision of the curfew, Dr Kiiru said that the best strategy would have been for the Government to vaccinate as many people as possible, ensuring everyone is complying with personal hygiene measures and prohibiting all huge gatherings.
"That would have been the strategy," she said while acknowledging that the Government might have wanted to disrupt Easter due to the expected festivities during the holiday.
She said the Government could give small businesses some assistance to cushion them during this period.
"I hope the curfew is not going to last beyond Easter."
Public Transport Operators have been directed to strictly uphold the re-designated 60 per cent carrying capacity. This has not only cut into the earnings for matatu and bus owners, but has also pushed up the cost of transport for commuters.
After Uhuru's address, Kenya Railways announced changes in both the Madaraka Express Passenger Service which runs on the Standard Gauge Railway (SGR) between Nairobi and Mombasa as well as the Nairobi Commuter Rail Service operations. The Madaraka Express services will operate until tomorrow noon.
After last year's hiatus, Kenya Railways' earnings from passenger travel dropped by 48 per cent to Sh892,945,872. Passenger numbers declined to 1,295,730 last year from 1,599,420 in 2019.
Domestic flights have also been banned, which means that earnings for Kenya Airways, which locally operates Jambo Jet, a budget airline, will take a major hit.
In the financial year ending December, KQ, as it is known by its international code, made a record loss of Sh36 billion due to international travel.
Data from the Central Bank of Kenya (CBK) showed that non-performing loans (NPLs), or loans that have not been serviced for more than three months, in the transport and communication sector for the period between July and September rose by Sh6.4 billion. CBK attributed the more than 30 per cent increase in bad loans to last year's lockdown of five counties.
Event organisers, artists and sports people will also have it rough after the President banned all social gatherings and sporting activities. Attendees of weddings and funerals have been restricted and house parties banned. The Government made this decision after it noticed an unusual peak in infections with positivity rate rising to 19 per cent from 2.6 per cent by the end of January.
"What this means is that, if you test 100 Kenyans for Covid-19 today, 20 will be positive; compared to January this year, when only 2 would have been positive," said Kenyatta, noting that 70 per cent of the infections were in the five counties.
Unfortunately, these developments might have forced the President into the false dilemma of choosing between saving lives and the economy where both the International Monetary Fund and the World Health Organisation have noted that both need to be saved concurrently.
On Friday, when the President announced the new measures, he never outlined any new measures to cushion traders and workers.
In March last year, the government tried to take care of both the economic and health effects of the pandemic.
Thus, rather than going on a total lockdown as most developed countries did, the Kenyan economy remained partially opened to allow for millions of Kenyans, especially those in the jua kali sector, to continue working. However, even as they went to work, they were to strictly adhere to social distance rules by always washing their hands and putting on their face masks.
And, acknowledging that a lot of Kenyans would be fired or furloughed due to some of the social distance rules, the government also put together a raft of emergency measures aimed at cushioning households.
On the fiscal side (policies on government spending and taxation), there were tax relief measures that saw taxpayers pay less in Pay as you earn, Corporate Income Tax and the Valued added Tax.