FAO warns of dire famine as more locusts invade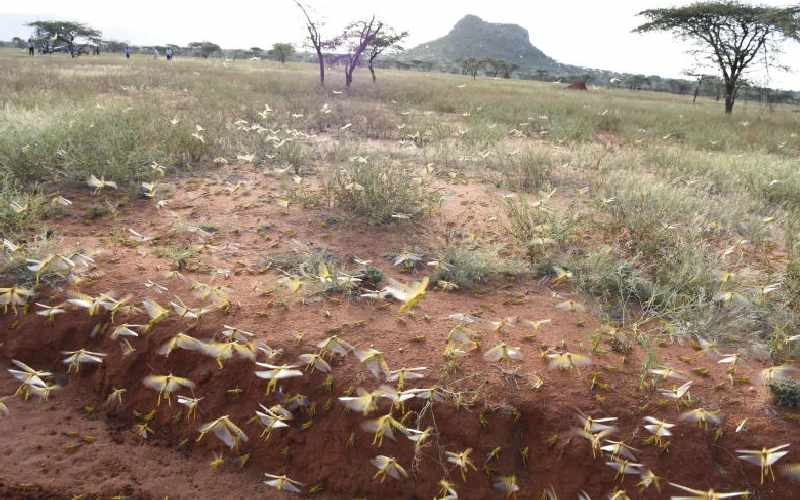 Turkana County is now the epicentre of desert locust invasion, the Food and Agriculture Organisation (FAO) has warned.
The county has recorded the highest number of hopper band sites carrying millions of the insects posing a threat to food security.
The devastating insects are now devouring pasture vegetation and food crops across the county, with a total of 182 bands covering approximately 462,000 hectares in all the seven sub-counties since they were first sighted four months ago at Lokwamosing in Turkana East Sub-County.
A band is a group of wingless nymphs that later metamorphose into swarms of winged adults. Both the bands and the swarms move around and rapidly strip fields and cause damage to crops.
Though FAO said the number of counties infested with desert locusts has reduced from 28 to four (Turkana, Marsabit, Samburu and Isiolo), a lot needs to be done to control the insects especially in Turkana where concentration is worrying.
"FAO is taking a regional approach to desert locusts control response, and it is important for Turkana to intensify control measures to ensure the insects do not mature and continue to compound the threat to Kenya's and East Africa's food security," said Tobias Takavarasha, FAO Representative to Kenya in Lodwar.
The organisation has issued six surveillance vehicles, three pickups mounted with sprayers, one helicopter, two spray airplanes as well as one fixed-wing aircraft for the Kenya-Uganda border surveillance.
Speaking at the weekend at Lodwar airstrip, Takavarasha said the donation is a response to the reported sightings of mature copulating swarms last month.
"FAO has collaborated with other partners to support counties carry out surveillance and control measures," he said.
Statistics from the UN indicate that about 3.1 million people in arid and semi-arid regions in the country are food insecure. Increased breeding of desert locusts, coupled with the current flooding as well as Covid-19 pandemic, poses a wider risk of food and pasture shortage.
Turkana Governor Josphat Nanok said his county is starring at a possible famine following devastating effects on food crops by the desert locusts.