Taxpayers footed Sh125b KQ debt, new report shows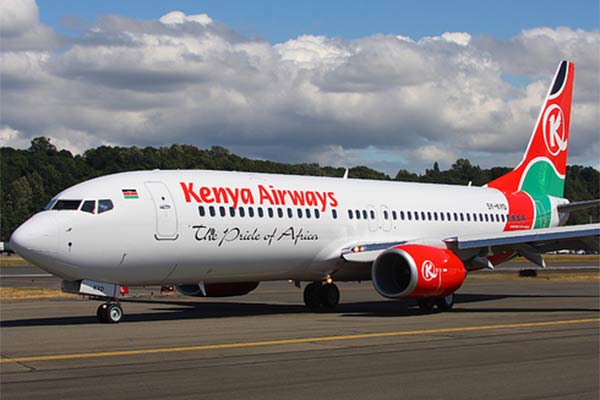 Treasury borrowed Sh124.9 billion to help cash-strapped Kenya Airways (KQ) settle another maturing loan, a new report shows.
This is even as taxpayers' money was used to settle debts for three other broke parastatals amounting to Sh1.36 billion.
According to official data, Treasury refinanced the loan on behalf of Kenya Airways in the fourth quarter of Financial Year 2018/19. Refinancing is simply the use of one debt to repay another.
The revelation comes a day after the troubled airline saw its losses widen to Sh8.5 billion in the first half of this year from Sh3.9 billion recorded in the same period last year.
In the 2017/18 financial year, the cash-strapped carrier secured a Sh20 billion loan to help it repay another loan it borrowed from African Export-Import Bank (Afrexim) three years ago.
Contacted for comment, however, Dennis Kashero, director corporate communications at KQ, said the airline did not receive any money.
He instead asked The Standard to follow Treasury's refinancing process and declined to reveal the terms of the loan.
Our efforts to get Treasury's remarks were not fruitful as our phone calls went unanswered.
According to the Treasury report, the Government also wrote off Sh24.2 billion it had lent to the listed carrier.
Kenya Airways, popularly known as KQ, has now shifted its focus to a nationalisation exercise in the latest bid to get out of the red.
KQ's management attributed the loss to an increase in the cost of flying to new routes, new accounting standards and increased staff costs.
However, it was not only KQ that received taxpayers' cash in a bid to stay afloat.
Guaranteed loans
Cement manufacturer East African Portland Cement, national broadcaster, Kenya Broadcasting Corporation (KBC), and Tana and Athi River Development Authority (TARDA) also benefited from the State's generosity.
"Between July 2018 and June 2019, the National Government paid a total of Sh1.37 billion on account of guaranteed loans against the projected debt service of Sh1.28 billion," said Treasury in the report.
The total amount of money lent to State corporations and government agencies increased from Sh811 billion in the 2016/2017 financial year to Sh869 billion as of June last year.
Almost a third of this is in bad debts owed by State organs, ranging from sugar firms to local authorities that Treasury will now have to write off.
"Out of the total loan amount outstanding, Sh682 billion are active loans and are being serviced by respective government agencies, Sh116 billion are non-performing loans, while the balance of Sh27 billion was dormant and have since been written off," explains the Treasury in part.
The Athi Water Services Board owes the biggest chunk of the non-performing loans, having been lent Sh39.5 billion. KQ Chairman Micheal Joseph said at a press briefing in Nairobi on Tuesday that whereas nationalisation is "not what the company wants", it is "what it needs" to help it manage its costs.
He said this was the strategy that KQ's competitors in the region, including Ethiopian Airlines, had adopted to stay afloat.
Mr Joseph explained that nationalisation would also be undertaken for strategic reasons to make Nairobi an aviation hub.
He said the process would also help the airline get tax reliefs such as railway levy and excise taxes.