Why you still see plastics littering streets despite ban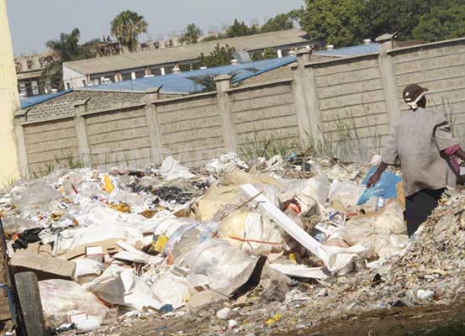 The ban on plastic bags by the Government in August has driven their manufacture and sale underground as black market racketeers find avenues to rake in huge profits.
Investigations by The Standard have revealed that some traders are flirting with jail terms and heavy fines by secretly stocking and selling plastic bags.
The traders risk four years in jail or Sh4 million in fines should they be arrested and convicted.
Our investigations revealed that the bags are still being sold, sometimes in plain sight
Although small-scale traders are the worst hit by the ban on plastic bags, they are also the most daring when it comes to defying the ban.
A number of them have found ways of stocking the bags by all means and devised methods of camouflaging their illegal activities, only sell the bags to select and trusted clients, mostly male.
"I encourage my customers to come with their own bags, which most women do. But men generally do not carry bags. So I charge them Sh5 for every bag," said Cecilia, who sells vegetables in Eastleigh.
She admitted that she always has plastic bags stuffed in her handbag.
Initially, traders did not charge their customers for plastic bags. But as Cecilia's colleague, Alphonse Odiwuor explains, the ban pushed up the prices of the bags, now sold on the black market. And it is customers who bear the cost.
"The pack that held 200 carrier bags used to be sold for Sh50 at most. But now it is retailing at Sh130, and you cannot get it just anywhere. You need to know people who know people," said Mr Odiwuor.
Profit margins
This means that before the ban, a small plastic bag was a paltry Sh0.10, which small-scale traders could afford to pack chopped sukuma wiki, sugarcane pieces or cooked githeri in.
But at Sh130 a pack, it means the small bags now cost Sh0.65, which the traders say makes a considerable difference in their profit margins.
Some traders charge their clients extra for the risk of getting arrested for defying the ban, which was contained in a Kenya Gazette notice dated February 28 and signed by Environment Cabinet Secretary Judi Wakhungu.
Since the the ban took effect on August 29, the National Environment Management Authority (Nema) has arrested 20 people. Nema Director General Geoffrey Wahungu said the 20 were arrested in Bomet and Mombasa counties.
On November 13, seven people were arrested in western Kenya for using plastic bags. In the same month, a businesswoman in Nyeri County was released by a court on a Sh2 million bond after being arrested with 17 different types of the banned plastic bags.
Nine weeks since the grace period elapsed, some traders seem to have acquired new stock yet manufacturers are assumed not to be producing any more.
"If you walk carefully through this market, you will see one or two people with them. Where they get them from I do not know, but they always have them in stock. They are being sold like some black market product, you really have to know people," said Robert Macharia, a trader at City Market in the central business district.
Noting that the ban had to some extent made the market cleaner, Mr Macharia said it had also affected customer service.
According to the trader, Nema ought to have come up with a specific design and material of plastic bags to be used instead of a blanket ban that left business people with no alternative.
"What we do not have is a specific alternative to the banned bags. People are trying everything they can to wrap meat. Nobody wants blood dripping on their clothes when they buy meat and carry it in eco-friendly bags," he said.
The effects of the ban continue to unfold.
Just like Kings Plastics, which sent away workers after the ban came into effect, a similar notice of company closure still hangs at the entrance of Laneeb Plastics Industries located at City Cabanas along Mombasa Road.
According to a security guard at the firm, the firm's machines stopped roaring on August 28.
"People were told to go home. Just like that, and they lost their jobs," he said.
The closure was felt by more than its workers. A group of women who sold food - mainly tea, beans, chapati and fruits to the workers - also vanished once the factory stopped operating.
"I have no idea where they went. But this company was their source of customers. Almost everyone bought food from them because it was risky and difficult to cross the busy highway just to buy food," said the guard.