Why SGR is a tiny part in China's game plan to become superpower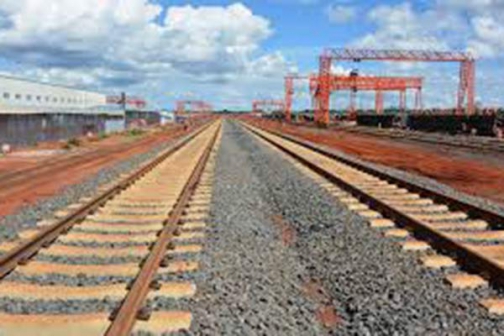 Every nook and cranny of the sprawling industrial area in Nairobi was once fed by a labyrinthine of a railway network built by the British more than 100 years ago.
The artery of short branch lines, off the mainline that ran from Mombasa to the border town of Malaba, ensured thousands of local factories moved goods within and outside Nairobi with ease. Today, most of these lines have been abandoned and are now overgrown with bushes. With their usefulness gone, these transport capillaries now serve nothing but a stark reminder that once Kenya had an elaborate and efficient rail network aimed at serving Kenyans.
Today, the new kid on the block is the Standard Gauge Railway (SGR) whose fruition became real on the arrival of six locomotives last week with another 50 set to arrive by May this year. The arrival and operation of these locomotives does not only herald the end of the Lunatic Express and all its branches- although it will still be around, it also thrusts Kenya at the heart of China's grand plan to build one long transport corridor from mainland China, through Asia, Europe and finally into Africa.
The SGR is just but a small cog in this humongous wheel that will ensure the world's second largest economy is constantly fed with vital resources even as it deploys its excess exports and investments. China's "One Belt, One Road" (OBOR) includes physical road, which takes one from China all the way through Europe to somewhere up north in Scandinavia - or the belt. It also includes the maritime Silk Road, in other words, shipping lanes, essentially from China to Venice- this is the Road.
OBOR, which management firm McKinsey described as "the world's first trade superhighway" will cover 65 per cent of the world's population; a third of the world's gross domestic product and a quarter of all the goods and services. OBOR, according to McKinsey, will need funding of between $2 trillion (Sh207 trillion) and $3 trillion (Sh310 trillion) per year.
Funding for OBOR will come from Asian Infrastructure Investment Bank (AIIB), which is supposed to have $100 billion (Sh10.36 trillion); Silk Road Fund, which will have around $40 billion (Sh4.15 trillion) and New Development Bank which is the funding source for the BRICS countries and will have another $100 billion (Sh10.36 trillion). BRICS is the acronym for an association of five major emerging national economies: Brazil, Russia, India, China and South Africa.
Analysts have reckoned that OBOR is part of China's policy of "Going Out" that was launched in the 1990s which emphasizes on the acquisition of natural resources, capture of foreign market share, building of a number of global Chinese brand names and acquisition of foreign technologies.
Chinese officials have not yet officially integrated Africa into the OBOR, but there are signs that the many roads and ports being undertaken by China in Africa will ultimately be annexed to China's Great Silk Road. However, the many infrastructure projects being built in Africa have left no illusion about Africa being part of OBOR. And Kenya, in particular has been included in the Great Silk Road.
"The most direct historical link to Africa relates to China's 14th century maritime fleets, which reached Africa's east coast, specifically an area that is part of modern Kenya," says Lauren Johnston, writing for the International Centre for Trade and Sustainable Development. Ms Johnston is a Postdoctoral Fellow at Melbourne Institute of Applied Economic and Social Research, University of Melbourne. Her research focuses on China.
This is the main reason why China, which funded Kenya to build Standard Gauge Rail-road between Mombasa and Nairobi at a cost of Sh327 billion, puts the country as the African hub for the OBOR initiative.
"As a relatively large regional and coastal economy with a port of East African importance (in Mombasa), Kenya is also important for reasons of economic geography. Chinese-invested rail plans intend to better connect Kenya and its ports to a number of proximate landlocked economies, including Uganda, South Sudan, Rwanda, and Burundi, unlocking intra-Africa as well as broader international trade opportunities in the process," added Johnston.
On Wednesday, Uganda said the first phase of a railway designed to improve connections between the landlocked East African country and three of its neighbours will cost $2.3 billion (Sh238 billion). So keen were the Chinese on the connection between Kenya's SGR and Uganda's that they insisted on the same contractor for the two projects if Kampala wanted them to finance their SGR.
"Recently Uganda went to engage the China Exim Bank and one of the conditions they were given is that between Uganda and Kenya, we must appoint one operator to do operations and maintenance of SGR between Mombasa and Kampala in order for the bank to consider any financing," Kenya Railways Managing Director Atanas Maina, was quoted saying by one of the local dailies.
The Ugandan line is being constructed by China Harbour Engineering Company, a subsidiary of China Communications Construction Company Ltd (CCCC), which is the parent firm to China Road and Bridge Corporation that is building the Kenyan line.
The financiers, Export-Import Bank of China, also signed with Tanzania a $7.6 billion (Sh788 billion) loan agreement with the Export-Import Bank of China (China EXIM Bank). The loan is for the construction of a standard gauge rail corridor that will similarly link Tanzania with regional neighbours Uganda, Rwanda, Burundi, and Congo.
However, some observers have insisted that China has its eye on Congo, and that the Ugandan line, besides linking up with South Sudan will also link up with the Congo and move all the way to Kisangiani. Indeed, in 2012 there was a proposal for a new or rehabilitated 1,435 mm (4 ft 8 1⁄2 in) gauge line from Kisangani to the port of Lamu in Kenya, according to Kenya Railways.
To some observers, the SGR is simply a part of a grand plan by China to ensure constant supply of natural resources to its industries, access more markets for its manufactured products as it clambers up to the apex of the global economy. But why would China belabor on such a colossal project? What is in it for China? "China is seeing a bit of a slowing down in its growth. A lot of people are saying that that's part of the next growth wave of Chinese exports, which is that it's going to have its influence and its infrastructure build-out in many of these countries, most of them emerging markets, in lots of things that frankly have fueled the very high growth in China over the past decade," according to managing partner of McKinsey's Hong Kong location, Joe Ngai.
Ngai adds: "And frankly one of the other transparencies that needs to happen is around China's intention. Because one of the things that people are going to look at is how much of this is political versus on the business side. For a lot of people, there's still a little bit of suspicion or skepticism around whether this is part of China's emergence as the next world power, to which obviously some countries are going to be a little bit less welcoming."
And there is immense opportunity in Africa for China to deploy its investments and exports. "Africa's under-realised industrial capacity and substantial opportunity for Chinese firms in African construction sectors have instigated a steady stream of investments in African steel and iron ore," according to Johnston.
"In exploring ways to best utilise OBOR's immense offerings and those of other investors, African governments should be hard-nosed, and oriented towards implementation and sustainable development in first identifying and then agreeing the best policy mix and governance structures for realising African win."
Today, China accounts for about 20 per cent of imports in Sub-Saharan Africa and about 15 per cent of its exports. Trade relations between the World's second wealthiest economy and East Africa countries have never been deeper. Indeed, if the East African region was to be opened up further by the SGR as is the objective, Chinese products stand to benefit more than the member countries.
In Africa, China might also be looking at the continent's prevalent natural resources which are important for its ubiquitous manufacturing industry. For example, for the SGR route from Lamu to Kisangani, China's top prize is the wealth of minerals in the Congo. Congo is Africa's top producer of copper, the world's largest source of cobalt and a major supplier of coltan, tin and timber. Its resources have been critical inputs to China's expanding economy, whose companies remain hungry for Congo's commodities, according to Bloomberg.
Moreover, China's interest in East and Central Africa has been attributed to tantalum, a rare and valuable metal that is used to make capacitors in smartphones. Uganda and its neighbours, Democratic Republic of Congo, Rwanda and Tanzania, are known to have huge deposits of tantalum. However, according to Economist David Ndii, the resource rich country along the SGR route is the Congo only.
He does not think that the SGR will be critical for the exploitation of natural resources. "Natural resources will go to market regardless. The Atlantic is the natural and cheaper route even for Eastern DRC using the river which is navigable all the way to Kisingiani. The more logical motive is export and investment diversification," explains Ndii.
Contrary to the proverbial saying, China is having its cake and eating it. Chinese goods are more likely to be carried on the SGR than Kenyan ones.
Already, Kenya, Uganda and Rwanda import more from China than from any of the five member states of the East African Community. The SGR, which will be operated for the first five years by China Road and Bridge, might end up carrying more Chinese goods than regional countries' goods.
Gerishon Ikiara, an economics lecturer from the University of Nairobi, says that OBOR is real, and while some countries will benefit others will not.
Kenya Civil Aviation Authority grants licences to several airlines
"The airline had applied for an inclusive tour charter on the Warsaw/Larnaca /Mombasa route and vice versa,'' KCAA Acting Director General Mugambi M'nchebere said. The licence includes two frequencies per week and the airline will deploy a Boeing 738 based in Warsaw on the route to Mombasa.