Why battlefield tourism is the new frontier to grow numbers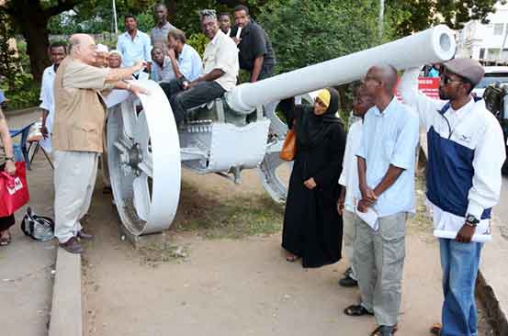 Tourism players at the Coast are itching for a slice of battlefield tourism to add numbers into the region. Battlefield tourism is a recreational travel to active or former war zones for purposes of sightseeing or historical study.
Hotelier Mohamed Hersi said battlefield tourism is a diversification concept that Kenya should tap into for growth. "The history of the First World War pitted two key antagonists then - the Germans and the British who both happen to be Kenya's leading source markets for tourists. These two remain very familiar to Kenya,'' said Hersi, who is also Chief Executive Officer of the Heritage Group of Hotels.
He added that Britain continues to have a strong bond historically with Kenya and battlefield tourism is glue to enhance that relationship. Sarova Taita Hills and Salt Lick Lodges General Manager, Willie Mwadillo, who is one of the first certified battlefield tour guides said that the world over, the concept has continued to develop. He said that after the end of the First World War in 1918, it become evident that the former battlefields would attract attention from war enthusiasts.
"Right here in Kenya and within the expansive Taita Taveta County, we have several World War 1 sites which served as active war spots during the infamous Great war that was fought both in Africa and Europe,'' Mwadillo said. He said over time, a large number of battlefield guides have been produced by a variety of travel agencies further fueling the rise of war tours.
Battlefield sites in Taita Taveta are located around Maktau where a war cemetery remains to-date. It is here where the first airfield that had the first air flight take off on August 8, 1915. There is also the Salaita Hills, Baobab Post and at the Taveta border town bordering Tanzania where it stands a house that once served as a police station where the first shot that signaled the start of World War 1 in East is believed to have been fired from.
Deep inside the expansive Tsavo West National Park are a host of forts and trenches that were used by soldiers fighting in the war. The existence of the now dilapidated Voi- Taveta railway line served as a clear testimony of how the war changed lives then.
The railway line was built to supply materials needed by British Forces battling the Germans who were originally holed up in the former Tanganyika, present day Tanzania. "Such sites are often a place of remembrance for those who fell where historically many countries' future course had been decided.
Future generations
For many visiting such sites, curiosity plays a big role. Driving forces behind battlefield tourism is the need to understand better, to experience the sensation of the place and to stand in the shoes of those who were there during the war times,'' Mwadillo said.
Mwadillo said that battlefield tourism offers a commercial solution to preserving these historic sites being lost through the passage of time. "We are mooting plans to work with the National Museums of Kenya (NMK) to gazette all the sites and ensure that they are preserved for future generations to come," he added.
Veteran hotelier and battlefield lead expert, James Wilson in his book Guerillas of Tsavo has documented the happenings during the First World War. At the Sarova Taita Hills Lodge, a mini museum made possible with the assistance of Wilson is the only clear example of possible efforts to popularise battlefield tourism.
"We ensure that all guests coming to stay with us are well informed about activities with offers to tour our museum. Going forward we are printing brochures which shall have information on battlefield sites and stories of interests,'' Mwadillo said.