Decades-old mistakes around Kenyan banking halls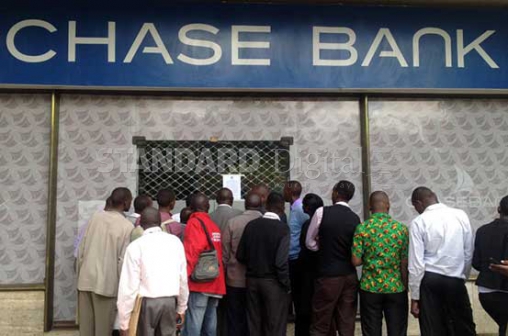 The wheels of time have moved the banking sector into 2016; an era of modernity and advanced financial inclusion. However, it appears the old scary talk of receivership, liquidation and consolidation never left.
Yesterday, the nation woke up to the news that another lender, Chase Bank, had been put under receivership and that customers can no longer access their money.
A day after Central Bank of Kenya Governor Patrick Njoroge refused to comment on the lender's financial woes, he faced the camera in a pensive mood and confirmed to depositors that Chase Bank had to be put under statutory management.
It happened less than 24 hours after the lender issued a second set of financial statements that revealed the rot in its financial statements.
Insider loans and advances, usually given to directors, shareholders, associates and employees hit a massive Sh13.62 billion unlike the previous figure of Sh5.72 billion.
Reversing the wheel of time: The year is 2015 and in October, Imperial Bank is placed under receivership. Again, happening at mid-month when so many Kenyans want to access money to clear the month's bills, just like those of Chase Bank.
In the same year, which has been summarised by many CEOs and analysts as tough and turbulent, Dubai Bank also went down, having tried for three years to play down claims that it was involved in dodgy book keeping. That was on August 4.
And with these in mind, Fred Ojigo, a city-based banker, posted on his Facebook platform, "Are the ghosts of 1990s following us this fast?"
Going to 1990s, we open another shaky history in the banking history largely linked to the Goldenberg scam.
One that saw Mathew Pearson, a London-based African analyst write in The East African Standard: Kenya is very over-banked. In essence, a shakeout is good for the industry, but it is going to get worse before it gets better. In January 1990, when the then Vice President and Minister of Finance George Saitoti launched a new wholly State-owned commercial bank, Consolidated Bank, it was hoped that Kenya would walk past the 1986 banking crisis.
At that time, depositors lost money, with Saitoti announcing that only Sh180 million in loans and advances had been recovered.
While bringing together nine lenders who had collapsed, he termed it as a "major step in the development of banking industry in Kenya".
But in 1993, the Goldenberg scandal, one of the much-talked-about scam on Kenyan soil, rocked the banking sector again.
Four banks - Delphis, Exchange, Post Bank Credit and Pan African - were linked to a channel for an inflow of Sh24 billion into the economy, upsetting Government's inflation and credit targets as well as a dramatic fall in the shilling.
TRUST BANK
Then in 1998, just eight years after Saitoti's message of hope to depositors that saw him bring on board George Cunningham, a fellow of Institute of Bankers with 30 years' experience, Trust Bank went down.
It could not live to its name after it failed to honour cheques worth Sh360 million. And Consolidated Bank, which was formed with equity capital of just Sh200 million, was also not living to its word - 'we are better together'. Another lender, City Finance Bank, which was also owned by Ajay Shah, just like Trust Bank, was also declared insolvent. Its manager, on quitting, said the bank needed Sh414 million to reopen.
Reliance Bank would soon follow. At the time of going down, media reported that by December 1998, the lender had an insider loans portfolio of Sh470 million. This was about 43 per cent of all loans and advances.
The worst was to come in 2003 when Euro Bank went down with billions of money including that of National Housing Insurance Fund, among other parastatals.
Yet, 13 years later, another elephant has visited the living room of Kenyan banking industry, again. Yesterday, Dr Njoroge may have rewinded the wheels of time when he told the Press that even though CBK will not force banks to consolidate, they should really consider that option.
And in all these crises, political interference, poor book keeping and insider dealings among other malpractices have been cited.