Regulator orders Saccos to blacklist defaulters, outing them from credit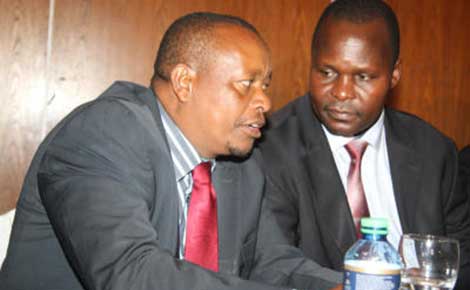 Kuscco Ltd National Chairman Mark Magutu (left ) and Sacco Societies Regulatory Authority CEO Carilus Ademba, at the Sacco leaders forum sponsored by USAid in Nairobi, yesterday. [PHOTO: MOSES OMUSULA/STANDARD]
Nairobi; Kenya: Sacco loan defaulters have been put on notice after the sub-sector's regulator, Sacco Societies Regulatory Authority (Sasra) said it has now given Saccos the greenlight to start blacklisting offenders and file their names with Credit Reference Bureaus (CRBs).
The defaulters will not only be banned from Saccos, but it will also make it difficult for them to access loans from other financial institutions including commercial banks, micro-finance institutions and Higher Education Loans Board. "We have to support the credit reference bureaus' (CRB's) initiative to ensure our loans are collected," said Sasra Chief Executive Carilus Ademba.
The regulator has also cautioned Saccos to be wary of members who are out to take loans with the intention of not repaying them, even when they are in a position to pay off their debt obligations.
Loan recovery
Ademba said credit information sharing is meant to ensure efficiency in loan recovery. He was speaking at a Saccos Leadership Forum in yesterday, sponsored by USaid. The regulator says the character of borrowers is more important than their ability to service the loans.
According to Sasra, the personality of an individual should also be given priority when evaluating the potential borrowers. "The character of an individual is more important than just the ability to repay the loan. If we know your character, you will be able to access the funds you want and credit to carry out your activities," Ademba told a Sacco leaders forum in Nairobi, yesterday.
The latest move is part of efforts by the Sacco movement to weed out serial loan defaulters from the sub-sector and to ensure Saccos have enough funds for on-lending. The biggest challenge we deal with as a regulator is the loan portfolio that is not performing. About 80 per cent of the assets of the Saccos comprise of loans to members. We have to be very keen to ensure we collect all the 80 per cent of our asset that is not there."
Regulatory framework
Ademba says the time is long overdue for Saccos to be incorporated in the credit information sharing system just like other financial institutions. "Saccos are financial institutions and what other financial institutions are doing we should also be able to do," he says. CRBs were introduced in 2009 to gather, disseminate and store information on borrowers' credit history — within a provided regulatory framework — to help financial institutions tighten their lending guidelines and control the level of non-performing loans.
The Central Bank of Kenya has so far registered two CRBs — CRB Africa and Metropol CRB. Cooperatives mobilise domestic savings to the tune of Sh400 billion - accounting for 33 per cent of the national savings and are major drivers of the economy.