NIC Bank optimistic on rights issue uptake
By John Oyuke
The NIC Bank's Sh2 billion rights issue closed on Friday with the financial institution confident of attaining a full subscription.
Group Managing Director James Macharia said the cash call had by Friday continued to generate interest from investors.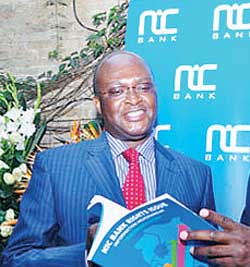 NIC Bank Chief Executive James Macharia says shareholders have been moving fast to take up shares.
He said most of the applications for the new shares coming in within the last one week. He noted that the Issue has generated excitement in the investment community mainly due to the Bank's strong historic performance and robust strategy.
"We are confident of a full subscription, given our track record of profitability, good management and sound expansion strategy," he said.
Macharia said eligible shareholders - those who were in the Bank's Shareholder Register as at July 30, have been moving fast to take them up, adding that this is a testament of the shareholders' confidence in the Bank. The Issue launched on August 23 targets raising an additional Sh2 billion to enable the bank pursue its local and regional expansion plans.
After the rights issue, the bank intends to carry out a bonus issue which is subject to Capital Markets Authority approval.
The Bonus Issue will see the holders of the New Shares receive one additional Share for every ten New Shares held after the rights issue. Current shareholders will also participate in the Bonus Issue.
The new shares issued during this Rights Issue are expected to start trading on the Nairobi Securities Exchange on October 23, after the electronic crediting of Central Depository System accounts with the New Shares.
The bank said in a statement that refund cheques - applicable if applications are received in excess of an applicant's entitlement and any additional shares allotted - will also be dispatched on the same day.
During the launch of the rights issue late last month, Macharia announced that NIC Bank had posted a 42 per cent increase in its pre-tax profit for the first half of 2012 to Sh2.3 billion up from Sh1.6 billion in the same period last year.
Total operating income grew by 36 per cent to Sh4 billion and Macharia said this was due to strong performance in asset financing.
He said asset financing was unaffected by the difficult operating environment characterised by high interest rates, instability in the financial markets and increases in geopolitical uncertainty due to the upcoming General election.