Kibaki suspends Baraza
President Mwai Kibaki has suspended Deputy Chief Justice Nancy Baraza and appointed a tribunal to probe her conduct after the December 31 gun incident in Gigiri, Nairobi.
The Judicial Service Commission (JSC) on January 13 petitioned President Kibaki to suspend Ms Baraza over the Village Market Mall gun saga with a security guard.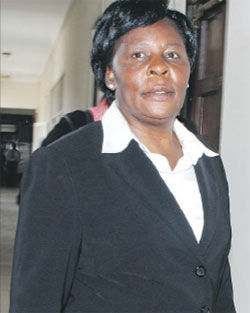 Deputy Chief Justice Nancy Baraza. Photo: File/Standard
Chief Justice Dr Willy Mutunga, while addressing the media on January 13 said JSC had also recommended to the president to appoint a tribunal to investigate Baraza's conduct.
The JSC had appointed a sub committee to investigate her conduct and the issues surrounding the incident that occurred at the upmarket shopping mall - the Village Market over New Year's eve.
A security guard, Rebecca Kerubo alleged Ms Baraza brandished a pistol at her.
Kerubo also accused her of pinching her nose and threatening to shoot her when she pursued her to demand that she undergoes a routine security check.
Members of the tribunal:
Betty Murungi- A graduate of University of Nairobi and Harvard Law School, she has over 25 years experience at national and international levels. Has extensive background in international human rights in violent conflicts and international criminal justice. Served as Vice-Chair of the Truth, Justice and Reconciliation Commission before she resigned.
Waweru Gatonye – Has over 30 years experience in commercial litigation in tax, banking and insurance cases. Graduated from the University of Nairobi in 1974. Worked in the Attorney General's office and rose to a deputy to Director of Public Prosecutions.
Was appointed by the President as an Assisting Counsel to the Goldenberg Inquiry. He is also involved in high profile arbitration and was also appointed by several other commissions of enquiry.
Henry Mutai- Graduated from the University of Nairobi with his Bachelor of Laws (LL.B) degree in 1994, two Masters degree from Temple University, USA and University of Melbourne, Australia. He also has a PhD from University of Melbourne. His interests are international law and intellectual property. Mutai also served as Managing Editor of Lawafrica Law Reports
Fred Ojiambo- He represented former Deputy Prime Minister Musalia Mudavadi in the Goldenberg commission of enquiry. He also represented Lord Delamere's grandson, when he was accused of shooting a Kenyan on his expansive ranch near Nakuru.
Geoffrey Nice- A British barrister and was a deputy prosecutor at Slobodan Milosevic's trial in The Hague. Aso prosecuted several cases for ICC for the Former Yugoslavia since 1998, including the cases of the Bosnian Croat Dario Kordi, who was subsequently jailed for 25 years, and the successful prosecution of Goran Jelisic, the self-styled "Serbian Adolf".
Rodney Dixon- His international work covers Privy Council cases, UN claims, bilateral investment treaty matters, actions before the International Court of Justice, and private international law cases. Specialises in public and administrative law.
Godfrey Musila- He is an international criminal lawyer and Director at African Center for International Legal and Policy Research. He has also lectured at Kenyatta University. He holds PhD in International Criminal Law and Justice from the University of Witwatersrand and a Masters degree in Human Rights from University of Pretoria.
Others: Advocates Lucy Kambuni, Grace Wakio and Joe Kwach
Tecno launches Camon 19 and Spark 9
Tecno Kenya announces launch of Camon 19 series & spark 9 seriesThe CAMON 19 Series will offer incredible night-time photography features & the SPARK 9 Series will redefine selfie and iconic design for Gen Z.