Ranneberger era ends as Obama picks new envoy
By Lucianne Limo
US Ambassador Michael Ranneberger's tenure in Kenya may be coming to an end with President Obama's announcement that he has nominated Scott Gration, the UN Special Envoy to Sudan, to replace him.
A statement from the Washington announcing key administration posts changes puts to rest speculations of Ranneberger exit from Kenya.
"We would like to stress that Gration's departure in no way indicates that this administration is walking away from the many challenges we still face in Sudan, particularly in Darfur," the statement said. Gration played an active role in Southern Sudan's secession efforts.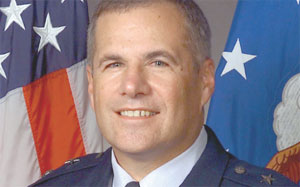 Scott Gration, the UN Special Envoy to Sudan, has been appointed as Ranneberger's replacement. [PHOTO: COURTESY]
The announcements, however, do not mention when the changes will take effect.
Outstanding men
President Obama said" "I am confident that these outstanding men and women will greatly serve the American people in their new roles and I look forward to working with them in the months and years to come."
President Obama announced his intent to nominate the 59-year-old retired Air force Major General to take over from Rannerberger, whose has served in Kenya for five years.
Previously Gration served at the White House as special assistant to the president for presidential personnel.
Gration, who speaks fluent Kiswahili, is not new to Kenya having served during his early years in the Air Force as general pilot instructor, including a two-year assignment with the Kenyan Air Force.
Ranneberger exit marks the end of five years in active diplomatic career where he made both foes and friends. Ranneberger was a popular envoy who criss-crossed the country and was made an elder by many communities.
He also rubbed politicians and some civil society members the wrong way after he was accused of meddling in Kenya's affairs.
A motion to censure and have him recalled was withdrawn from Parliament by Imenti North MP Silas Ruteere after he realised a majority of MPs would not support it.
The motion was introduced in Parliament last December days after President Kibaki and the Prime Minister Raila Odinga publicly criticised Ranneberger during the Jamhuri day celebrations over his verdict on Kenya as contained in the leaked diplomatic cables.
Cables released by Wikileaks last November show Ranneberger describing Kenya as a swamp of flourishing corruption.
Egypt protesters end Mubarak's 30-year reign
The streets of Cairo rang with chants of "Free...Free...Free at Last" after long serving President Hosni Mubarak finally succumbed to an 18-day wave of massive protests calling for an end to his 30-year reign.