New laws protect property rights, says Orengo
By Martin Mutua
Lands Minister James Orengo has said the Proposed Constitution protects citizens against deprivation as opposed to the current one, which does not have provisions that secure land rights.
The minister said the proposed law was the only way Kenyans would undertake a peaceful revolution as Prime Minister Raila Odinga had stated.
"When I give you a title deed now it has more meaning since it encourages instruments of land ownership and rights," he added.
Mr Orengo spoke when he presented members of the Standard Sacco Society with title deeds for plots they acquired in Utawala in Mavoko Municipality during a ceremony held at the Standard Group headquarters along Mombasa Road.
Earlier while inviting Orengo to speak, Standard Group Deputy Chairman and Chief Strategist Paul Melly told the minister the land issue was the most emotive and that he needed to shed more light on the matter.
"Mr minister especially the power to determine the minimum and maximum acreage has been the subject of emotive debate. Probably when you speak you can say something about it," he added.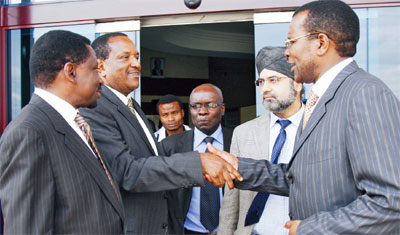 Standard Group Deputy Chairman and Chief Strategist Paul Melly (Right) thanking, from left, Lands Minister James Orengo and Co-operatives Minister Joseph Nyagah after presentation of title deeds to Standard Sacco members at the Standard Group Centre, Mombasa Road. Group Operations and Technical Director John Opiyo and Chief Operating Officer Sarjeet Channa look on.

The minister said with a new constitution, Kenyans would have the right to own any property of any description in any part of the country. "If that is not an achievement then I should be told what that is."

Bill of Rights

Orengo noted it was ironical that opponents of the Proposed Constitution were dwelling on a few issues while leaving out the majority of good things in the document, including the Bill of Rights whose provision were not in the current laws.

He said laws would be enacted to ensure people do not own huge tracts of land in every part of the country yet the same remained idle.

"And most of those holding the land are doing so for cosmetic value and speculation," he added.

Orengo said under the Agriculture Act there are provisions that enable the Agriculture Minister to take away land that lies idle and give to others to farm, adding the new constitution was out to protect such situations.

Orengo noted Kenya was the only country in the world that gave foreigners a land lease of 999 years while at the Coast there were those who had been given a lease of 10,000 years.

"But if you are a Kenyan the Proposed Constitution now states you can own land for eternity and that is not the same case with foreigners," he added. Orengo said there was need for proper debate on these issues particularly in the media.

For the elite

Speaking at the same function, Co-operatives Development Minister Joseph Nyagah said the current Constitution was for the elite while the Proposed Constitution was for ordinary people.

"The Proposed Constitution is anti-big men and if you are against it then you will be voting against yourselves because my children will still go to school in England," he added.

Mr Nyagah said he carried that message wherever he goes to make people understand.

"My father was a minister and I am now a minister. I had a Mercedes Benz when in high school and I am not like you. The current Constitution favours me, but the proposed one favours you and if you vote against it you will be voting against yourselves," he said.
Dawn of an era for East Africans
It is now official. The East African Community (EAC) Common Market is finally here, ushering in a seamless regional market and four key freedoms to the estimated 130 million citizens of the region.