NSSF: Pensions Fund set to lose Sh458 million
By Peter Opiyo
The National Social Security Fund (NSSF) stands to lose Sh458.1 million it invested in buying four parcels of gazetted forest land between 1994 and 1996, an audit report reveals.
The report indicates that the gazetted properties cannot be owned nor can any development legally take place on them, making it near impossible to recover money that NSSF sunk into them.
The audit into the fund, which was ordered by Prime Minister Raila Odinga last month, lists the parcels as New Muthaiga (part of Karura forest reserve, LR No 209/12274, bought in 1995 at Sh296
million), Ngong Road (part of Ngong forest reserve LR No 20840 and 20841 bought in 1995 at Sh40.5 million).
NSSF also bought Ngong Road parcel LR No 18486 in 1994 at Sh70 million and in 1996 purchased Parklands (National Monument LR No 2096439) at Sh51 million.
NSSF also stands to lose Sh2.1 billion in deposits to financial institutions that have since collapsed.
The Fund was accused of failing to comply with provisions of the Retirement Benefits Authority (RBA) Act in the appointment of an investments manager (fund manager), and that of a registered custodian.
It is also accused of failing to comply with investment guidelines, among other requirements.
Yesterday, RBA Chief Executive Officer Edward Odundo said they will issue a directive for prosecution should the NSSF fail to comply with RBA regulations by next week.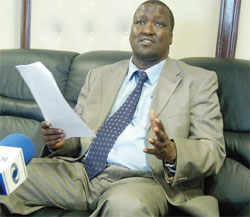 Labour Minister John Munyes at a past Press conference on the embattled NSSF Pension Fund.

Speaking to The Standard on the telephone from his rural home, Mr Odundo said although the fund has since named an investment manager and custodian of the Fund's assets, NSSF is yet to give the officials appointment letters.

"The new managers need to be given appointment letters and contracts. Naming them is not enough. The Fund must comply with our regulations," said Odundo.

According to regulations, the investments manager and the custodian cannot function if they do not have employment letters.

Odundo said a new board of trustees and a Managing Trustee should be appointed before the year ends to expedite the appointment of the two managers in compliance with the RBA.

The audit report, which The Standard has obtained, exposes financial and management improprieties that have dogged the fund for more than a decade, linking current financial woes to investments in doubtful projects and poor management.

The audit by the Inspector General (Corporations), under the office of the Prime Minister, lists ten institutions that went under in the 1990s with the NSSF's deposits, and expresses doubt over the recovery of the money.

In the 62-page report, NSSF is said to have deposited money with Continental Credit Ltd, Rural Urban Credit Ltd, Pioneer Building Society, Middle Africa Finance and Nairobi Finance Corporation Ltd.

Others are Trade Bank Ltd, Trade Finance Ltd, Post Bank Credit Ltd, Thabiti Finance Ltd and Prudential Building Society.

"The provision for doubtful investments relates to deposits in financial institutions which collapsed and therefore recovery of the deposits is doubtful," states the report.

It also exposes how the NSSF Board of Trustees continues to earn unauthorised sitting allowances despite a Government directive against it four years ago.

The report observes that the nine-member board gets Sh25,000 a person a sitting instead of the recommended taxable maximum of Sh20,000.

The Government gave guidelines on terms and conditions of service for board members through the Office of the President Circular No. OP/CAB.9/21/2A /CII/43 on November 23, 2004.

The report documents that following the guidelines, the NSSF management unsuccessfully sought the indulgence of the State Corporations Advisory Committee to approve payments outside the guidelines.

In a letter Ref No. OP/SCAC/9/161(A) (8) on January 14, 2008 Labour Permanent Secretary, the committee declined to grant the request, but this has not deterred the board from earning Sh25,000 a sitting each.

"It was established, however, that NSSF trustees continue to draw a sitting allowance net of Sh25,000 per sitting, contrary to the aforementioned guidelines and letter from the State Corporations Advisory Committee," states the report.

The report again questions the regularity of staff establishment at the multi-billion fund, pointing out that none was approved by the board of trustees.

The fund has 2,557 posts, with 1,688 staff as at September 2008. This means 869 positions are vacant.

Besides the large number of vacant positions, most of them are redundant and thus their existence creates opportunities for over employment," the report points out.

Investigation also revealed that the staff establishment has never been approved by the board of trustees. In addition, the Fund has never carried out a workload/staffing requirement analysis to determine its optimal staffing levels.

"The Fund staff complement is, therefore, not only irregular, but also arbitrary as it is not established through an empirical study," says the report.

The audit, done following concerns raised by the media and Parliament, also points out at the bloated workforce in some departments.

"For instance, the Customer Services Department, serving 29 field stations, has 942 staff members. This translates to an average of 33 employees per station.

The report notes that a former Managing Trustee (name withheld) would receive applications and then instruct the human resources manager to convene ad hoc committees to conduct sham interviews to rubber-stamp the appointments.

The report also blames former top managers for questionable trading of shares with Discount Securities, recommending they be held responsible for the missing share certificates and any loss of funds.

Discount Securities started trading shares on behalf of NSSF in August 2004, when the three top managers served in their respective portfolios.

"The three officers should be held accountable for their negligence for not obtaining share certificates in respect of the investment of shares worth Sh1.4 billion through Discount Securities Ltd," the report recommends.

After scrutinising the correspondence between Discount Securities and NSSF, the auditors concluded that the Fund did not bother to inquire about share trading from August 2004 until September 2007.

And even then, when Discount Securities eventually responded in March 2008, it said it was unable to reconcile the records, citing major discrepancies, ironically seeking the Fund's assistance instead.

And speaking in Busia, Labour Assistant Minister Sospeter Ojaamong said his ministry has unearthed massive corruption at NSSF.

Mr Ojaamong claimed millions of shillings are stolen at NSSF daily, making it impossible for retirees to get their payment in time.

"Workers contribute their money hoping that after retirement, they will get it back to use it in old age. Instead, they get frustrated as they seek the funds," said the Amagoro MP.

He claimed that Cotu and Federation of Kenya Employers are partly involved in the scam.

The assistant minister said it was the responsibility of Government to protect workers from corrupt leaders running public institutions.

"As long as President Kibaki allows us to be in charge of the ministry, we shall continue to fight corruption," said Ojaamong.

Additional reporting by Renson Buluma