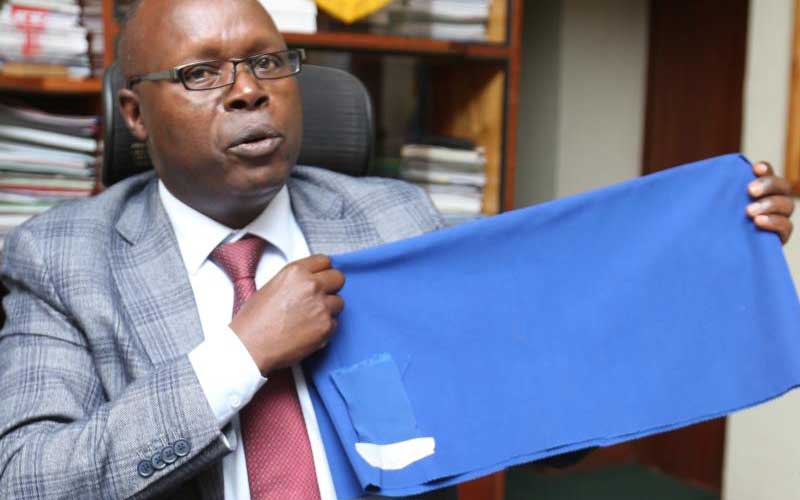 Rivatex has begun production of fabric for the new police uniforms.
Managing Director Thomas Kipkurgat exuded confidence the new machines the firm acquired will help it produce the 60,000m needed within the set time — one month.
The material will then be handed over to the National Youth Service to stitch the uniforms.
"We are happy President Uhuru Kenyatta's administration has recognised our efforts in the realisation of one of the Big Four agenda economic pillars of manufacturing by giving us the opportunity to come up with the fabric for the new police uniforms," said Prof Kipkurgat yesterday.
He added: "We are glad that the sample we presented to the security officials who visited our offices last month was approved."
Read More
President Kenyatta launched the new Kenya Police Service uniforms last year. He said the new outfits were meant to enhance the officers' visibility, especially after they were merged with the Administration Police.
Last month, top security officials, led by Inspector General Joseph Boinnet visited Rivatex before the factory was given the deal.
The President directed that the new uniforms must be produced in Kenya to promote local industry.
Kipkurgat said they had initially to produce the fabric from a combination of polyester and viscose fabric, but changed to cotton and polyester which is a stronger combination.
Other than being strong, the cotton-polyester fabric does not shrink and does not also absorb water.
"The quality of our fabric is good. We have carried out all tests in our laboratory and established the fabric is ideal for the new uniforms. It does not fade," said Kipkurgat
The uniforms will be worn by officers under general duty unit, previously administration and regular police officers.
Last year, Uhuru announced integration of the 39,680 Kenya Police Service officers with the 24,572 officers from the Administration Police under the command of Deputy Inspector General the Kenya Police Service.
Meanwhile, Kipkurgat said they were currently upgrading their machines and other equipment that will eventually reduce the cost of production and of fabrics. He, however, said there was need for more cotton.
He said the company currently produces 5,000m of finished fabric daily. This is expected to shoot to 40,000 when the new machines start operation.
"We want to cut down on imports to save on foreign exchange. At the moment, we pay Sh160 for a kilo of lint. This goes up to Sh190 if we import," he said.