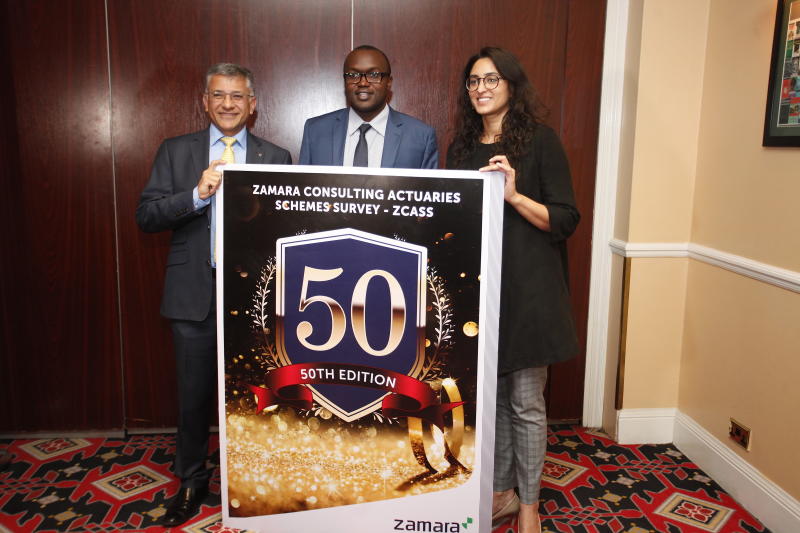 A majority of pension schemes have invested in equities and fixed income securities, giving a wide berth to sectors considered key in the Government's Big Four agenda.
According to a new survey released yesterday by fund administrator Zamara, 93 per cent of the investments by the different schemes last year went into equities and fixed income securities.
This meant very little went into infrastructure projects such as housing, a key pillar in President Uhuru Kenyatta's Big Four agenda.
The Zamara Consulting Actuaries Schemes Survey, which involved a close look at 417 pension schemes in the country, noted an average return of 13.4 per cent on the investments by the schemes over the past one year. In December last year, the total asset base for Kenya's pension industry crossed the Sh1 trillion mark and now stands at Sh1.2 trillion.
The asset base has grown 15 fold in the past 18 years, according to the survey.
Read More
As part of stimulating growth in the housing sector, Treasury Cabinet Secretary Henry Rotich in his budget speech this year urged pension schemes to put their money into national projects such as housing in order to power the economy.
Catalyst for growth
But speaking during the survey's report launch in Nairobi, Zamara Chief Executive Officer Sundeep Raichura said lack of stronger legislation and bold reforms spearheaded by the Government had inhibited the pensions sector's contribution to the economy.
"The pension sector in Kenya is playing an important role in the economy, but it can play an even bigger role and be a catalyst for economic growth and job creation. What we need is a bolder Government undertaking bolder policy reforms," said Mr Raichura.
He said among the reforms would be making it compulsory for Kenyans to contribute to a pension scheme with legislated minimum contributions in order to rope in more people.
Make it compulsory
Mr Raichura also proposed new regulations by the industry regulator, the Retirements Benefits Authority, to shield investors' funds in case of fraud and other unforeseen circumstances.
This means not putting all their investments into fixed assets and equities but also considering other investments such as infrastructure and education.
The report proposes the amendment of the Pension Act to make it compulsory for schemes to pay their trustees in order to strengthen good governance structures.
"The problem is that the trustees feel underrated and do not take the issues of good governance within the funds seriously," said Mr Raichura.