Fresh fears about congestion in dry port, Nairobi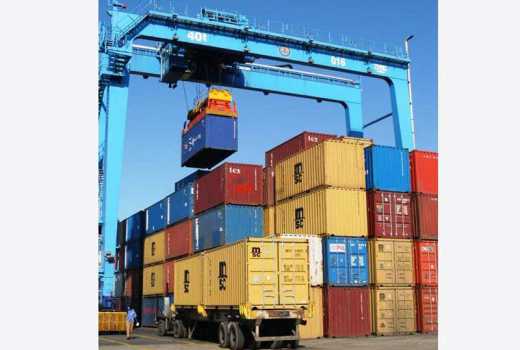 The dry port in Nairobi is getting congested as thousands of containers remain uncollected.
The Kenya Railways Corporation has published notices asking importers to urgently pick up their cargo from the Inland Container Depot, which is quickly filling up.
The rising quantity of uncollected cargo brings into question a ministerial directive that container freight previously moved by road be transported on the Standard Gauge Railway.
Piles of containers, some empty, are visible from Mombasa Road, with all indications that the mountains will keep growing, thanks to Kenyans' 'peculiar habit' of doing things at the last minute, according to port manager Symon Wahome.
"Most importers rush to do the paper work after the cargo has already arrived at the port," he said.
This means that cargo that should be evacuated within days could take several months to arrive at its destination.
More than 1,500 containers were lying at the Embakasi port by yesterday. An estimated 300 containers arrive daily from the Mombasa sea port.
Mr Wahome said the depot sits on 43 acres and that there was still 'lots of empty space' for storing additional freight.
He added that operational structures had been established, including a call centre to notify importers to collect their cargo once it arrives.
The order forcing importers to use the train met resistance from several quarters, including the owners of container freight stations (CFS), who were the biggest casualties together with truckers.
CFS usually grant a grace period of up to 30 days during which importers are allowed free storage as they work on the paperwork that involves clearance by the customs authorities.
But the disruption brought about by the SGR means importers do not have the luxury of the free storage accorded by the warehouses in Mombasa.
A manager of one CFS who sought anonymity for fear of victimisation, said it was unfair for cargo to be automatically sent to Nairobi.
All cargo destined for Nairobi is directly loaded onto the SGR without consulting the owners. The State is pushing to raise revenue for the costly project funded by Chinese loans.
Sh320 billion
China's Exim provided the Sh320 billion for the construction of the 600-km railway linking Mombasa to Nairobi – a cost that the State has struggled to justify.
An estimated Sh30 billion was spent on compensating land owners while another Sh20 billion was spent on the development of the container depot in Nairobi.
Importers have been granted deep discounts, albeit for a promotional period.
Cargo is expected to be the money spinner for the railway project.
Atanas Maina, the Kenya Railways Corporation managing director, told The Standard last week that the cargo business was projected to make money but "it does not have to be immediately".
To fight drought, involve communities
According to the latest information from the Meteorological Department, rainfall will be poorly distributed in April, May and June, and this will have a serious impact on agriculture