Posta Kenya's boss Enock Kinara fired amid boardroom battles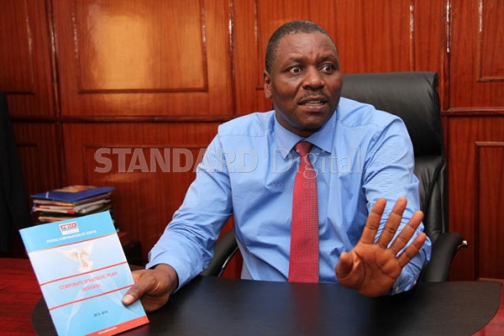 NAIROBI: The Postal Corporation of Kenya (PCK) Board has finally sacked Chief Executive Officer Enock Kinara. The sacking comes from a communication seen by Weekend Business yesterday dated July 21, 2016, and signed by PCK Board chairman Wilfred Sang.
Dr Kinara who had been entangled in a boardroom battle for his position with board members, will be replaced by Daniel Kagwe. Kinara was on official duty in Cameroon when the board sat and announced his sacking.
He has since confirmed to Weekend Business that he has cut short his trip and would be in the city as soon as possible to hand over to the new chief.
Former Information Communication and Technology (ICT) Cabinet Secretary Fred Matiang'i last year August controversially handed Kinara a new three year second term, after the first had expired, raising a storm among board members who had sought his dismissal.
PCK Board claimed it had evaluated Kinara's performance and rejected his quest for another term at the helm of the State corporation.
The board expressed its dissatisfaction over the renewal of Kinara's term in a letter addressed to Dr Matiang'i in May last year.
Moved to court
The letter read: "The board has rejected the contract renewal of Dr Enock Osoro Kinara for three years as requested in his letter dated February 19, 2015 due to the fact that he did not meet the threshold as set by the board."
Take a quick survey and help us improve our website!
Take a survey
It went on to remind the former ICT Secretary that it had constituted a team which had set 70 plus 1 per cent as the threshold for renewal of the term, and Kinara had scored 68.3 per cent. The board had gone ahead to strongly recommend to Matiang'i not to reappoint Kinara and instead seek a new replacement. Matiang'i rejected the board's proposal.
In February this year, Kinara moved to the Employment Court and filed a petition to restrain the board from sacking him.
The board fought back, presenting documents that claimed Kinara's appraisal score of 50.03 is below the pass mark of 70. It also cited mismanagement of the corporation's balance sheet which led to delayed supplier payments, late payment of salaries, issuing bouncing cheques and non-remittance of staff deductions.
However, the sacked Postmaster-General poured cold water on his board's allegations, claiming that the performance evaluation was not properly done since the board had turned his quarterly performance report into an annual assessment contrary to the contract he penned in 2012.
"PCK board has turned the quarterly performance report into the annual evaluation which is premature, unlawful and ill-motivated," Kinara objected during the petition hearing.
The relationship between Kinara and the board had turned irreconcilably cold with the former CEO continually accused of insubordination.
Sang said Kagwe brings a wealth of experience of over 30 years in the organisation. "Kagwe previously served as the deputy director and acting director strategy and business development in the corporation," Sang said.