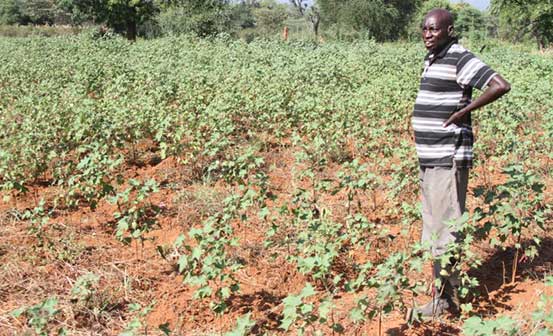 NAIROBI: India government's Sh3 billion grant to Rift Valley Textiles East Africa (Rivertex EA) to expand production capacity is a potential game changer in the quest to move millions from poverty. But for this to happen, the national and county governments in cotton growing areas should work in tandem, join Moi University — the owners of Rivatex EA — and offer farmers a fair deal for their produce.
Reports that the factory has already acquired over 50,000 acres of land in Eastern, Kerio Valley and Mogotio to enhance cotton growing is encouraging. Yet, evidence from the American South — where the crop has been grown extensively for centuries and was the driver of the Trans-Atlantic slave trade - has shown that large-scale cotton production is a catalyst for equally large-scale poverty because the work is hard, tedious and is paid peanuts.
The solution would seem to lie in giving individual farmers the incentives to grow cotton together with their subsistence crops. This would include high-yielding seeds and other inputs on credit. The farmers would also need extension services by well-trained officers working on set targets. Needless, to say, this calls for a total break from the past that has impoverished cotton growers in many parts of the country.
The lessons learnt at Rivertex EA would then be replicated in other parts of the country including Nyanza where Kisumu Cotton Mills (Kicomi) has been lying idle and in Eastern Kenya.
Ideally, the revived cotton growing and textile firms would create the base on which the expected foreign investors would build their multi-billion shilling factories to produce finished clothes for their global customers.
Read More
It is important to note that the coming of multinational investors would benefit the country very little if all they get locally is cheap labour. This would be particularly true for the firms that would be re-locating from China because the workers there have begun demanding a living wage. And these are likely to be the majority of firms that are checking out the country together with its neighbours especially Ethiopia which offers wages that are even lower than Kenya. In addition, Ethiopia also offers lower power charges.
The upshot of all this is that Kenya would be doing its people a disservice if it were to compete with her neighbours on the basis of cheap labour as evidence in Latin America and Asia has shown the multinational companies have a penchant for demanding to pay wages that are below the poverty line. When these demands are coupled with such multi-nationals' well proven track record of avoiding payment of legitimate taxes in countries where they are making the bulk of their money means the host country is a net loser.
This is why Kenya is best advised to base its manufacturing plans on attracting local investors with foreigners coming to supplement these efforts. It would also help if the local political leadership took its eyes off African Growth Opportunity Initiative Act (Agoa) because it has a limited time frame and its dependent on the whims of the American Congress and the sitting President.
To their credit, the East African Community states seemed to recognise the need to anchor the textile and leather manufacturing initiatives locally earlier this month when they announced plans to ban importing and selling of second-hand clothes and leather goods.
As expected, the second-hand clothes dealers are up in arms against the ban. But a closer look might reveal to them that they would make even more money selling new clothes.
What is even better, a resurgent textile industry using locally grown cotton would have a beneficial effect along the entire value-chain. It would also benefit the local dairy industry as the cotton seed would go into making cake for cows.