Record holder Wandia defends his steeplechase title in Brazil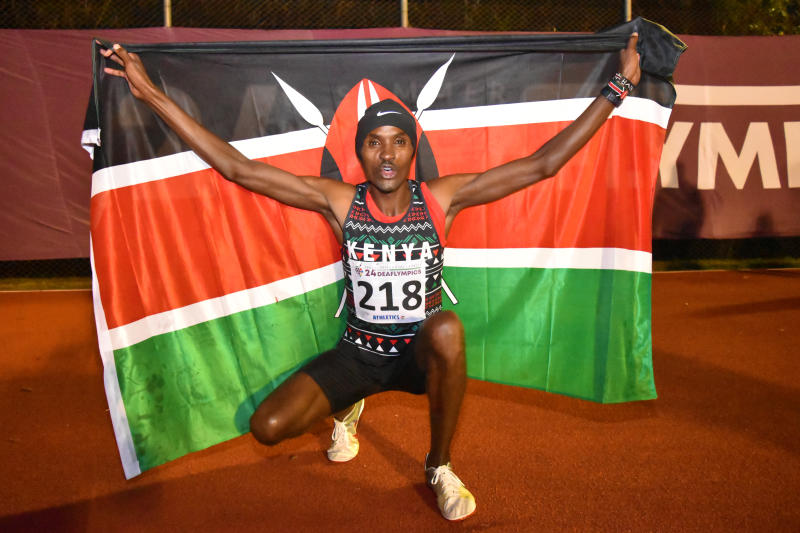 It was once again another medal haul for the country as Team Kenya captain Lucas Wandia led by example to successfully defend his men's steeplechase title yesterday morning here in Brazil.
His compatriot Peter Omari Kokobi settled for bronze behind Alexander Bley of Germany in the energy sapping race held at the Sesi Centro Esportivo Athletics Track in the Southern City of Caxias Do Sul.
In women's steeplechase contest, Ann Wangeci Njoki came third behind Sara Elise Ruokonen of Finland and Emily Wilson of Germany to win bronze that brought Kenya's medal tally to 14.
"I want to thank head coach Samuel Kibet for equipping me with tactics that made the race so easy," Wandia, who led from lights (they don't use guns) to tape, told Standard Sports.
"We had planned for a 1,2,3 finish but unfortunately one of us, Jacob Kibet, got injured and this made him to struggle in the race.
He continued: "The competition was also easy for me because of the adequate training I had at the camp back in Nairobi that helped me to improve on my speed.
"We are also grateful for the government support as all our needs were met, making us to only focus on one thing, training for the championships alone."
The Deaflympics record holder has been Team Kenya skipper for a decade now.
Even though he hails from Kiambu, Wandia started his athletics training at Baba Dogo grounds in Nairobi in the 1,500m category before he was linked up by coach Kibet with the Kenya Defence Forces (KDF).
Wandia has been training with the forces at the Ngong Forest since 2013.
Under the military, Wandia was introduced to different programs that built him physically and mentally in his career.
"Training with the KDF helped me to become sharp and focus unlike when I was doing it all alone in Baba Dogo," he said.
"The military also gave me free meals and accommodation making me to only focus on athletics."
During his debut at the Deaflympics in 2013 in Sofia, Bulgaria, the 37 year old father of four says he greatly lacked confidence but his fitness won him silver medal in the category.
He went home trained hard with the KDF, built his self esteem and was blazing hot when he returned for the Games in Samsun, Turkey in 2017 where he not only won his first gold medal but shattered the discipline record which stands to date.
Ahead of their camp at Kasarani Stadium before they departed to Brazil, Wandia did intense training in Ngong with the forces to build stamina and strength for the race.
He feels he has reached his peak in his career with now focus on lowering his record.
"My aim from now is to break my own record so as to get more recognition in the discipline world wide," said Wandia.
Apart from being a double-Deaflympics champion and a record holder to boot, decorated Wandia has also won gold and a bronze medals in the race at the World Deaf Championships in Bulgaria (2016) and in Poland (2021) respectively.