SGR cargo business faces hurdle of screening stacked containers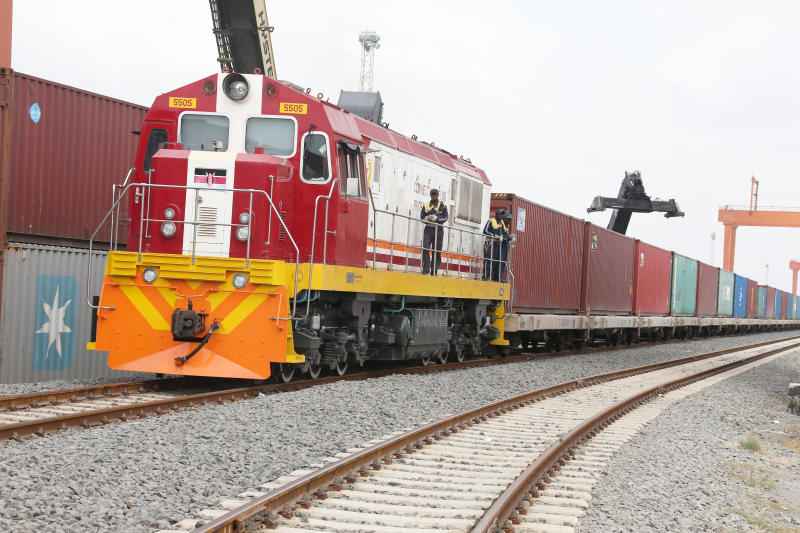 Cargo haulage by the Standard Gauge Railway (SGR) faces another hurdle because containers that are double-stacked on wagons cannot be screened by scanners.
Double-stacking of containers was seen as a solution after the Port of Mombasa experienced a shortage of wagons. About 550 wagons were damaged by six giant cranes at the port last November.
The damage reportedly reduced the number of freight trains from the port by half, leading to delays in rail-bound cargo between Mombasa and Nairobi.
However, chairman of the Mombasa Port Community Charter Gilbert Lang'at said yesterday 76 of the wagons have been repaired.
"SGR trains have been carrying double-stacked containers but the problem is that they cannot be scanned," he said.
Lang'at was speaking on the sidelines of a two-day retreat for port stakeholders and civil society organisations at the PrideInn Paradise hotel in Shanzu, Mombasa County.
The forum was convened by Kenya Private Sector Alliance (Kepsa) to discuss ways of cutting down costs of doing business at the port.
Northern Corridor Transit and Transport Coordination Authority executive secretary Omae Nyarandi said landlocked countries imported more cargo through the port of Mombasa during the Covid-19 period last year.
Take a quick survey and help us improve our website!
Take a survey
Nyarandi said there was potential for importers in the landlocked countries to increase the use of the northern corridor as opposed to the central corridor.
Patrick Mainge of Kepsa said port stakeholders were keen to see the cost of using the port of Mombasa go down.
"Mombasa port and northern corridor community is keen to see an efficient port as this will lower the cost of doing business," he said.
He, however, noted that with the spike in Covid-19 infections, they feared another lockdown could hurt businesses and urged Kenyans to adhere to Ministry of Health protocols.
Lang'at said cargo planned to be transported by SGR from Mombasa to Nairobi sometimes experienced delays.
"The owners wait for their cargo in Nairobi because it is imported Through Bill of Lading (TBL) but they may experience delays in Mombasa," he noted.
Lang'at, however, said the ship delays experienced at the port in January this year has been resolved and shipping lines had withdrawn threats to impose vessel delay surcharges.