Did SGR shift Kenya's economic centre of gravity to the south?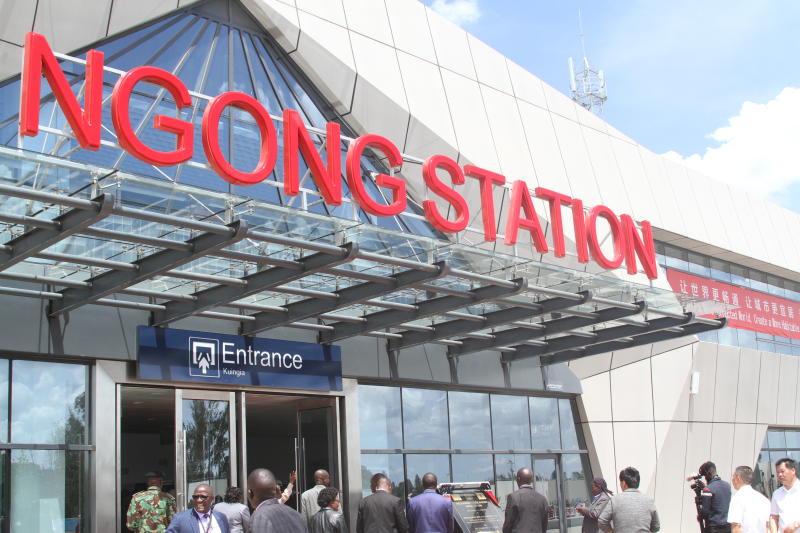 In the last 100 years, Kenya's economic centre of gravity has been Nairobi. The 2010 constitution tried to create 46 other economic centres but after 10 years, the results are mixed.
Beyond the new government offices, the county capitals have not significantly changed. A few hotels, not factories, define the new political entities, the former districts.
It was assumed that economic power would follow political power to the counties, but it is easier to devolve political power than economic power. To get economic power you need time and sweat, and at times luck.
Economic power does not devolve that easily. And it does not need to. Entrepreneurs look for the highest returns and are not bothered by political boundaries. Think of the big transnational corporations that derive their pride in operating in as many countries as possible.
Anecdotal evidence suggests that while political power was devolved in Kenya, economic power has been filtering back to Nairobi, voluntarily. Have you noted that vehicles from other county governments are always in the city? I doubt that they come for political consultations.
Do your research; everyone making money in the counties eventually wants to invest in Nairobi. The returns are higher than in the counties. Why else has the price of land hit through the roof? Noted the prestige in "He is a Nairobi businessman?" We rarely hear of Shamakhokho or Kimbimbi businessmen.
A second attempt to shift the economic centre is also led by government - construction of the Standard Gauge Railway (SGR) to Naivasha, or Suswa to be specific. The line bypassed Nairobi CBD and the densely populated Kikuyu, Limuru and Kijabe.
Beyond the tunnel at Ngong, the railway was easier to build than the original one through the highlands with hills and valleys. It passes through flat land but significantly less pricy real estate.
I wonder how much the government would have paid in compensation if the SGR passed next to the old one. Why did the British avoid the much easier route now taken by SGR?
By rerouting the SGR to this part of the country, we could have inadvertently shifted the economic centre of gravity to the south. How?
That was good use of the arid land to the leeward side of Ngong and the Aberdares. I am sure the owners of that land will make a fortune. An acre near the road or SGR is going for about Sh5 million. One hopes that soon a commuter train - an electric one - will ply this route, making Nairobi easily accessible. That could make the SGR more viable.
My thinking is that the highlands around Kikuyu, Limuru and Ngong should have been left forested. The water from rivers flowing from these highlands should have been used to reclaim the plains from Ngong to Suswa, more like water from well-watered Northern California is used to irrigate the much drier Southern California.
SGR has opened up this region, but nature has not. We can use the same efforts we have used to build SGR to bring water to this region. It will become our Southern California. I thought grapes can grow there and wineries will one day dot the scenic valleys. Over to the Agriculture ministry.
Suppose Konza comes to life and a superhighway joins Naivasha-Suswa through the back side of Ngong? This route will become a super-economic corridor. More boldly, join that highway to Arusha and Nairobi will finally get a worthy competitor.
A drive around Ngong seems to suggest this corridor is a possibility but must be sensitive to the indigenous people who call this place their home. Proximity to Nairobi makes it very viable.
Some could argue that the centre of economic gravity ought to move north towards Isiolo, which is geographically central. But there is no SGR or superhighway there. Could that be the next phase after the Ngong-Suswa corridor?
Yet Vision 2030 had Isiolo-Lamu as the next economic theatre connecting us to Ethiopia. Remember the Lapsset project? To gauge the attractiveness of this corridor, just check if plots are on sale!
Looking at the SGR route to Naivasha, more attention will shift to this region. It seems we have to talk to Tanzania more - it's closer to us and her agricultural potential will always be an asset to us.
Regional authorities
Nairobi's contribution to the national economic production has been exaggerated for too long. Twenty-five per cent is a good guess but still disproportional. That is why it makes sense to start focusing on other regions.
We used to have regional development authorities. It is time to give them a new lease of live, they transcend counties and create lots of synergies.
Traditional thinking seems to suggest that economic growth must start in Nairobi, the spoke and hub model. My suggestion is to have regional centres that compete with the city.
We tried to copy the US's constitution with senators and governors, why not their economic models with regional centres such as Dallas, Chicago, Boston, San Francisco, New Orleans and Atlanta, among others?
Our regional centres would simply be designated as the former provincial headquarters but we could add new ones. This could attract more investors than the tiny county headquarters, some starting from scratch.
Let us also be bold; economic growth is like a pair of scissors, we need both blades to cut. One blade is the government, the other is the private sector, the entrepreneurs. Are both blades cutting? Are they sharp enough?
-The writer is associate professor at the University of Nairobi.