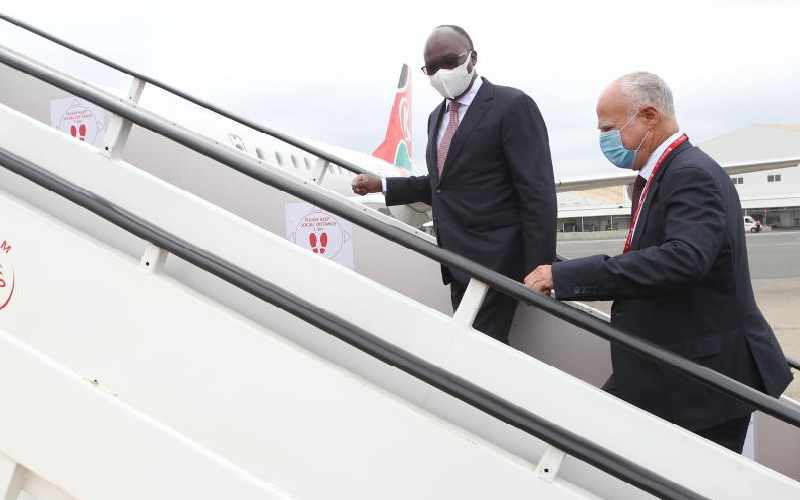 The coronavirus pandemic has worsened the turbulence and financial woes facing Kenya Airways, leaving the airline unsure if it will survive the impact of the pandemic.
The national carrier says it will be challenging to maintain its 'going concern' status according to a status report the airline recently filed in court.
The report details the extent of losses made since March this year and plans to lay off 40 per cent of its employees aimed at saving about Sh600 million a month. Over the months when most of its operations were grounded, the airline was reporting a weekly loss of Sh784 million ($74 million).
KQ also expressed fears its suppliers might move to court to recover unpaid dues, which could trigger a series of events including a worst case scenario — liquidation. KQ owes suppliers Sh22 billion, which has ballooned from Sh17.5 billion in March.
The airline says it is also running low on cash reserves in the bank and fears the money might not last for a month.
The report was filed in court as the airline sought to justify a move to lay off some staff in a case where the Kenya Aviation Workers Union wanted the court to stop the airline from implementing its down-sizing exercise. The union succeeded in getting reprieve for its members who will not be laid off. KQ started laying off staff last week and expects to complete the exercise by September 30.
Despite having restarted its operations in local and international markets, KQ does not expect recovery until 2023 in line with global airline industry expectations.
However, the airline is expecting further disruptions in 2022 due to polls, which usually slows down business especially travel.
When coronavirus hit Kenya in March, the carrier grounded nearly all its operations and was left with the cargo service, which had not been a major revenue earner.
"To better illustrate this decline, it is worth noting that before the onset on Covid-19, KQ operated revenue of approximately Sh2 billion per week.
The onset of the pandemic has seen these revenues shrink to Sh300 million per week, which cannot cover the operating costs of the airline, leaving KQ at a weekly loss position of Sh745 million," stated the carrier in the report.
This adds up to a monthly loss of Sh3 billion according to KQ. It further projects that at the end of this year, the carrier will have lost Sh35 billion.
KQ has a cash balance of Sh159 million as of the end of June 2020, which it said could not last it another month. This is in comparison to April when its cash balance stood at Sh2.4 billion.