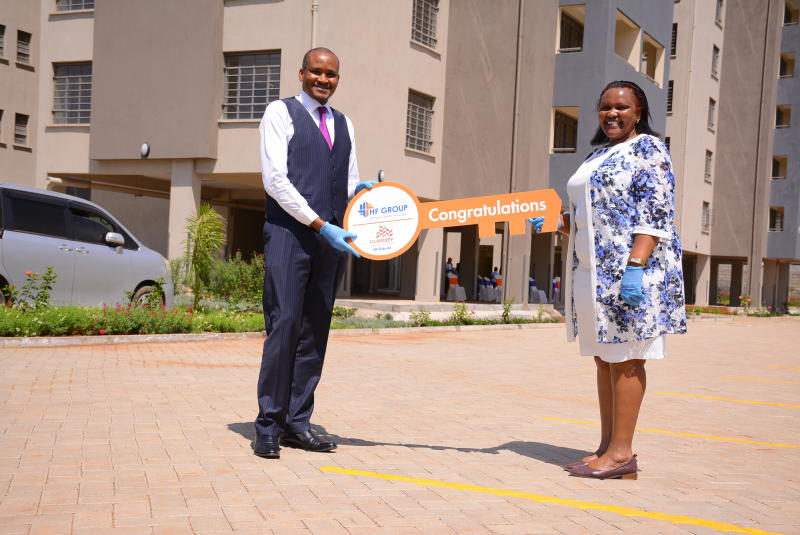 HF Group has handed over the first phase of the Clay City, which consists of 80 three-bedroom apartments along Thika Super Highway to buyers. The Sh700 million project, launched in 2018, was built in a joint venture with Clay Works Ltd that owns the land. HF Group financed the development. "We dedicated significant time and resources to ensure we're delivering exactly what our home buyers are looking for. The setting of Clay City is perfect for home buyers who want the serenity, convenience and amenities they've dedicated their lives and hard-earned income to achieve," said HF Group Chief Executive Robert Kibaara. "While there is no doubt that the real estate market in the country has slowed down in the last few years, we have put in place aggressive marketing strategies including the Shika Nyumba property sales campaign to drive the up-take of Clay City, as well as other housing developments under our portfolio."
SEE ALSO: Donholm place to be as city rents drop
Priced at Sh8.7 million per unit, the three-bedroom apartments come with separate dining area and spacious en-suite master bedroom in gated community development. "Residents are sure to feel right at home at Clay City, which offers spacious floor plans and the perfect setting to relax, play and create cherished family memories," said the HF chief executive. He noted that the second phase of the Clay City has been committed to the development of affordable housing units, in line with the group's strategy.
800 units
Upon completion, about 800 units will comprise a mix of one, two, and three-bedroom apartments.
SEE ALSO: Landscape architects 'left out' of new road
Mr Kibaara said HF is committed to the affordable housing agenda and will continue to collaborate with partners in the private sector to make home ownership a reality for the majority of Kenyans. He said the business is concentrating on mortgage financing for buyers as part of the firm's turnaround strategy that is already yielding positive results. HF Group is one of the players that have invested in the Kenya Mortgage Refinance Company, which is set to unlock funds for lending to developers and buyers.