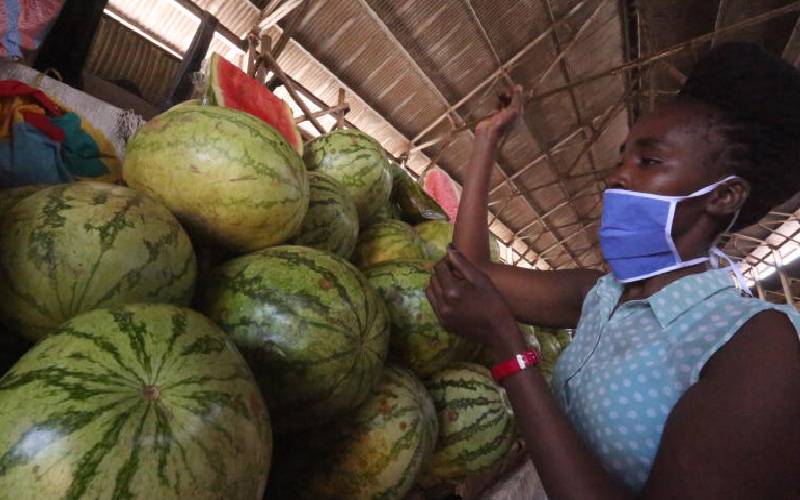 Traders at Kisumu's Jubilee market have made massive losses following transport delays at the Kenya-Uganda border as a result of stringent guidelines to curb Covid-19 spread.
The traders, who rely mostly on food and fruits imported from Uganda, yesterday said they had to wait four days to get supplies of vegetables, fruits and eggs from the neighbouring country.
Thrown fruit
Sharon Atieno, a fruit vendor, said for the past two weeks they had disposed of one tonne of watermelons after the fruits started rotting.
Ms Akinyi said half of the two tonnes she usually got from Uganda went bad as the trucks carrying them took too long at the border.
Read More
She said before the pandemic she could go across the border to get the watermelons.
"We used to go for them ourselves, but now we are forced to send people. Unfortunately they are being harassed at the border and have to wait at least four days to cross, hence the delay," said the vendor.
Because of the delay, Akinyi said, she was forced to reduce the price of her remaining watermelons, with the largest going at Sh300 compared to its usual price of Sh400.
Hawa Nancha, another trader who sells bananas, said the delay of trucks at the border had cost her business.
"We were supposed to get a lorry-load of bananas from Uganda yesterday but the truck driver is stuck at the border," she said.
Nancha added that aside from the delays, the price of raw bananas had shot from Sh800 to Sh1,200, forcing her to increase prices. This has, however, only worked against her as clients run away.
Increase prices
"Getting bananas at high prices has forced us to increase their prices per bunch, which in turn has caused us more losses than we expected," she said.
George Rangudi hired a truck to ferry goods from Uganda, but his experience at Malaba was draining.
Mr Rangudi said he was forced to stay in the truck for four days before he could cross the border.
Rangudi, who sells eggs and cereals at the Jubilee market, said after one was tested for Covid-19 at the border, the long wait for results, which takes up to four days, was frustrating.
"When you go to Uganda you are asked to stay in the truck and it can take four days before you get to the other side," he said.
Rangudi said he barely got a profit and urged President Uhuru Kenyatta to intervene and cushion them from the losses.