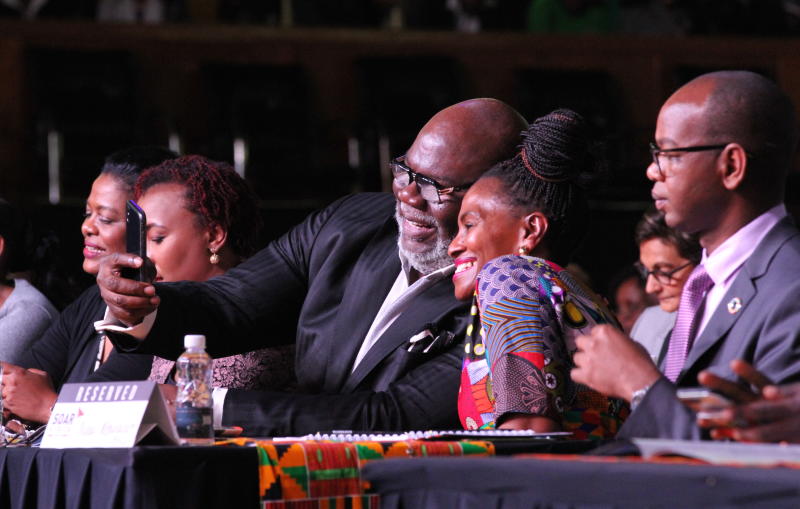 American preacher and entrepreneur TD Jakes has told entrepreneurs in Kenya to expand their market to the global level to realise maximum growth. Speaking during the 2019 Soar Summit in Nairobi yesterday, the preacher said there were limitless opportunities that the entrepreneurs can tap into to actualise their business ambitions. Jakes said most entrepreneurs had limited themselves to the market within their countries when technology can assist them expand their businesses to other countries. "Create opportunity to reach beyond your area. There is a huge demand for what you have. Get out," he said.
SEE ALSO: No glitter for Pokot women gold
Collaboration avenues
He praised the improved technology that has promoted globalisation, saying social media platforms such as Facebook and Twitter were viable places to meet clients. "Your market place may not be your neighbourhoods… There is demand for your normal items if you package them well," he advised entrepreneurs. He said a chain of collaborations between entrepreneurs beyond Kenya's borders were more profiting due to the existing technologies. Jakes told entrepreneurs in African countries to support each other to reach their economic destinations.
SEE ALSO: Singer Akothee now joins coronavirus control team
"We must become our brothers' keepers. You have to care about issues facing other countries. You have to care about others because pollution travels, diseases travel, money travels," he said. He said Kenyans are so fiery on social media, and sometimes go nasty when provoked. He recalled the past when he had a nasty experience on twitter after posting a statement that he claimed was misunderstood by Kenyans as provocative. "I wonder if you can market yourself with the same intensity," he posited. Jakes faulted corruption and advised Kenyans against embracing the vice, saying it is possible for the country and its citizens to thrive without it. "If other people have found ways of doing business without corruption, it shows it can be done," he noted.
SEE ALSO: Business ideas to start today with zero cash
Quick successes
For starters, the preacher advised the entrepreneurs to identify a problem their society is facing and look for a possible solution. "Whatever your business is, it must be an answer to a problem," stated Jakes. At the same time, the preacher cautioned the youth against desiring to make quick successes, saying there were greater benefits with going through the painful process of stabilising businesses. "There is something to be respected about the process. The process is invaluable," he told starters. The event was attended by Strive Masiyiwa, a Zimbabwean telecommunications entrepreneur among other dignitaries.
[email protected]