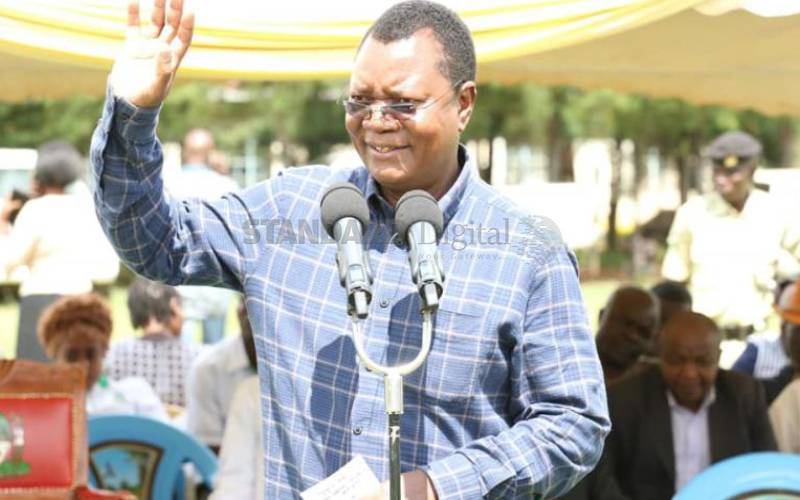 The county government yesterday launched a Sh23 million training centre for dairy farmers. The Lugari Dairy Smart Farm will see farmers trained on best practices to increase production. The smart farm is situated at Kabras County Polytechnic in Chevaywa ward, Lugari sub-county. Deputy Governor Philip Kutima, who is also the Agriculture executive, said the smart farm will serve as a learning centre for local farmers and agriculture students at the polytechnic.
SEE ALSO: Oparanya wants Sh26b county funds released
Prof Kutima said training will focus on best practices in the dairy value chain. "We are investing in this project to equip students and farmers with knowledge in dairy farming to increase milk production in the county. The project sits on a 10-acre piece of land and will also serve as a milk collection centre for farmers before delivery to Malava Dairy plant once the factory is operational," said Kutima.
Two centres
He said similar smart farms in Lurambi and Matungu sub-counties were operational. The two farms are at Bukura Agricultural College and Matungu Polytechnic. Kutima said all the 12 sub-counties of Kakamega will each have a smart farm for dairy farming by December this year. The deputy governor dismissed Senator Cleophas Malala's recent claims that the Malava Dairy plant had stalled despite being allocated Sh50 million in the last financial year, assuring that everything was on course.
SEE ALSO: Political oblivion? Not for bullfighter from Kakamega
"For the doubting Thomases who are moving around asking questions to the wrong audience for selfish gains on why Malava Dairy factory is not functional to date, I want to tell them that government projects are not run like fast foods outlets," said Kutima. Kelly Nelima, the county chief officer in charge of Livestock and Fisheries, said a beneficiary of the smart farm project must have an acre of land with fodder, a unit housing dairy animal, clean water and must be a member of cooperative society. "The farmer must have the capacity to do routine management like vaccination and tick control," he said.