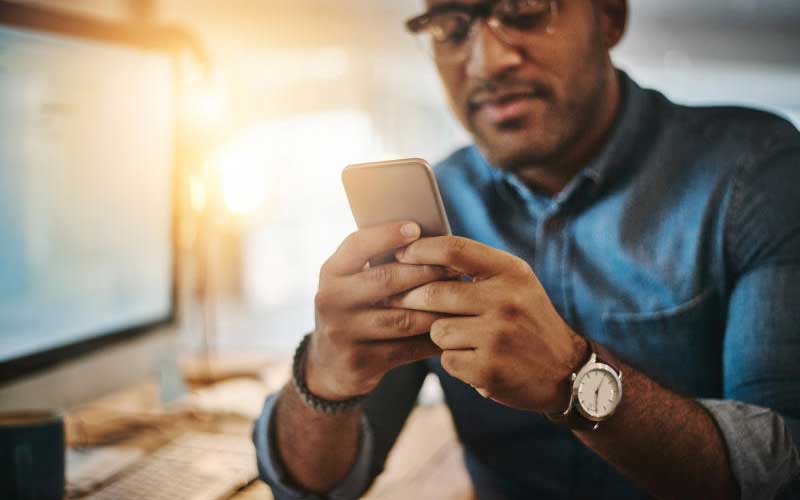 More than 2.5 million Kenyans are today listed as loan defaulters, most of them by digital lenders. This means that the new-age borrowers cannot access credit, from both the traditional lenders and digital platforms, and could easily miss out on certain jobs that demand that they present a positive credit report. Worse, for many who have been blacklisted is the possibility that they could have been targets of fraudsters. There has been an increase in instances where malicious people have collected personal information online and offline and used it to register on the digital lenders' platforms, subsequently taking loans without paying and leaving the owners of such details to explain themselves.
SEE ALSO: Youth get relief on loans payment
Such might have been the case with Resolution Health Group's Chief Executive Peter Nduati, who in April said he had sued one of the digital lenders for reporting him as a defaulter after a SIM card linked to his ID number was said to have defaulted on a Sh1,000 loan. TransUnion Credit Reference Bureau estimates that between 2.3 million and 2.5 million people have defaulted on loans based on monthly reports by traditional and digital lenders. Reporting by digital lenders is, however, voluntary unlike banks and microfinance institutions that are compelled by law. The defaulters would translate to about 30 per cent of the 7.5 million people who take digital loans advanced by banks or mobile loan applications. A good chunk of these at more than 400,000 have earned a negative listing for defaulting on debts of as low as Sh200. While debt distress owing to factors such as lack of consumer awareness, stacking loans from different lenders and outright lack of a repayment plan have led to many defaults and subsequent negative listing in CRBs, fraud is emerging as a challenge that consumers and digital lenders have to be wary about.
SEE ALSO: China not funding SGR good for Kenya
TransUnion CRB Chief Executive Billy Owino says this has risen from being a negligible source of bad loans for digital lenders to account for close to two per cent of the credit applications. "Fraud is becoming a big problem. We are having too many cases of defaults reported that are coming out of fraudulent applications. However, those are cleared easily but this depends on when," he said. "One should be wary of that visitors' book where you put your name and ID number. All a fraudster needs is a name and ID number to register on a fintech platform." Mr Owino estimates that about 1.8 per cent of mobile applications are fraudulent, from under one per cent about two years ago. "There are about 108 million mobile loan applications that happen annually, that would mean 1.9 million applications are fraudulent. Not all these applications may go through but even if half of the fraudulent ones are successful it means millions of shillings, it is a serious problem," he said.
SEE ALSO: Sh50m grant for MMust graduates
Owino noted that Kenyans should take advantage of legal requirements on the credit reference bureaus, which are required to offer one free report to customers per year. "Every Kenyan should always check their credit reports. A consumer is entitled to a free report every year from every CRB. There are three CRBs so that would be three reports every year. It is advisable to regularly check your credit score," he said. Even if you have not taken a loan, it is good to check your credit report from time to time. You might be surprised to find that you have been listed as a defaulter on a digital loan even in instances where you have never downloaded the app." The Digital Lenders Association of Kenya (DLAK), a recently formed lobby, says fraud is the biggest source of the loans that are in default at any given time. "Fraud is very common and a large source of our non-performing loans and write-offs. What they do is take your ID and name, which are easy to find and that is all they need to obtain an extra SIM card and use it to borrow," said DLAK Chief Executive Robert Masinde. They can easily borrow from six lenders in a short time and throw away the SIM card. It is a big problem for us. Every player has complained about it as being the biggest challenge they have had in lending because being able to distinguish who is genuine and who is not. Mr Masinde said they are working on fraud exchange where the lenders can report in real-time once they see some suspicious activity. "This could help prevent a SIM card from perpetrating further fraud. The challenge is that you cannot report that as proper default. It is something that we think we are better off coming together and resolving collectively," he said. Overall, about 11 million people have credit profiles, of which 7.5 million have digital loans while 3.5 million have taken traditional facilities such as personal loans and mortgages. The borrowers on the digital platforms are either customers of mobile lenders operated by banks such as Mshwari, KCB Mpesa and Timiza by Barclays or are customers to the purely digital firms like Tala and Branch. TransUnion says that over 90 per cent of mobile lending volumes are through the bank-owned fintechs. This would mean that while they are not fully regulated, the banks that own them at least fall within the banking regulations. Other than fraud, Owino cited lack of consumer awareness as the other major factor that has led to growth of loan defaults. This is made worse by ease of access to the digital loans, where the threshold set by the about 50 or so apps is so low, anybody with a SIM card can access some credit. On the digital lenders end, they lack ability to predict the capacity to repay by some borrowers. While the Fintechs developed algorithms that worked brilliantly for a majority of their customers, they are yet to get it right for between 20 and 30 per cent of their clientele. The lenders also did not share information especially in their initially years, which led to some borrowers stacking loans, whereby they would borrow from as many lenders and at some point could not keep up with the repayments. "The number of defaults is definitely worrying. More so because mobile loans are channels through which most Kenyans are becoming credit active for the first time," said Owino. It's powerful in bringing on board excluded people, but also ruining their credit worthiness." In the traditional setting, by the time you took a loan, there was literacy on why you are taking the loan and what was required of you. Unfortunately, in digital lending space, one thing the industry left behind was consumer awareness on what taking credit means." DLAK says the industry has not undertaken much consumer awareness, which Masinde said is among the things that the association would shortly embark on. He added that other factors that could help reduce the instances of defaults include flexibility by the lenders, which would include extending the time for a consumer to repay as well as increasing their physical presence, especially their customer care representatives. "I think as an industry we need to do much more consumer awareness and education. This is especially considering that we have a lot of young people that can access credit, many need financial education and what it means to incur credit and what it means to pay on time, the consequences for defaulting and how to clear your name if you are listed," said Masinde.