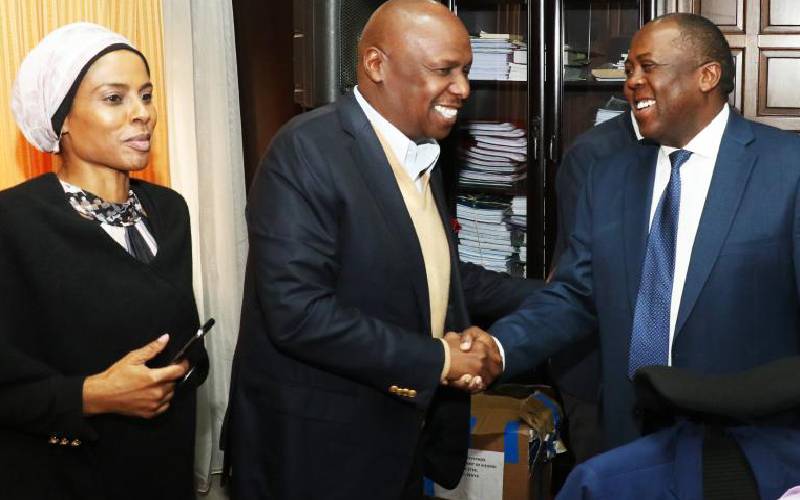 Sci & Tech
Telkom has already covered 26 sub-locations out of the 28.
Mobile network operators are hesitant to provide services in marginalised areas over returns. Despite creation of the Universal Service Fund (USF) in 2009 to finance the provision of Information and Communication Technology (ICT) services in remote areas, some 201 sub-locations across the country have not been reached. The companies have kept off these areas because they lack commercials viability. USF was established through Kenya Communications (Amendment) Act, 2009, and is managed by Communications Authority of Kenya.
SEE ALSO: Telkom pulls plug on nearly 25,000 mobile cash agents
Besides donations, its funding is drawn from contributions by stakeholders, including Telkom Kenya and Safaricom, where each remits 0.5 per cent of their annual revenues. Yesterday, Telkom Kenya told the Senate Committee on ICT that lack of a level playing field among competitors has seen many marginalised areas neglected. They are keeping off the remote areas because they are not guaranteed of profits. Some of the areas are grappling with insecurity, impassable roads and disputes among communities. Telkom CEO Mugo Kibati told the committee chaired by Baringo Senator Gideon Moi that measures need to be put in place to ensure areas without network coverage are reached.
SEE ALSO: Coronavirus: Uhuru approves wider internet coverage initiative
Mr Kibati appealed to the committee to push for provision of communication services so that all parts of the country can be covered without discrimination. "It is time to grow out of talk on market dominance. The talk should be how to reach all Kenyans and this should be done by all operators," recommended Kibati. He was giving an update on the progress that Telkom has made since it was contracted by the Communications Authority of Kenya (CAK) to provide voice infrastructure in 28 sub-locations in nine counties. Under the arrangement, Telkom was also expected to provide minimum basic 2G voice and data services. The counties include three sub-locations in Baringo and West Pokot and six in Bungoma. The others are Garissa (1), Isiolo (1), Kwale (6), Marsabit (2), Samburu (2) and Turkana (2). Telkom has already covered 26 sub-locations out of the 28.
SEE ALSO: Fifth internet cable lands in Kenya
Gideon concurred with Kibati, saying focus should be on serving all Kenyans rather than targeting areas that are likely to generate profits for the telecommunication companies. "We need to have conversations with all stakeholders in telecommunication sector. We have to look at how to reach all Kenyans because it is for the good of all citizens," the senator said.
Bill and Keep
Kibati urged introduction of Zero Mobile Termination Rates with adoption of Bill and Keep model for smaller operators to have resources for network roll-out. Further, he asked the committee to advise the CAK to subsidise operating costs and zero-rate spectrum used in USF sites. "The cost of spectrum in Kenya is prohibitive. Reducing the cost of spectrum both at the initial assignment and operations stages will facilitate enhanced coverage by operators. "This will also translate to reduced customer costs, thereby enhancing access through market forces," said Kibati.