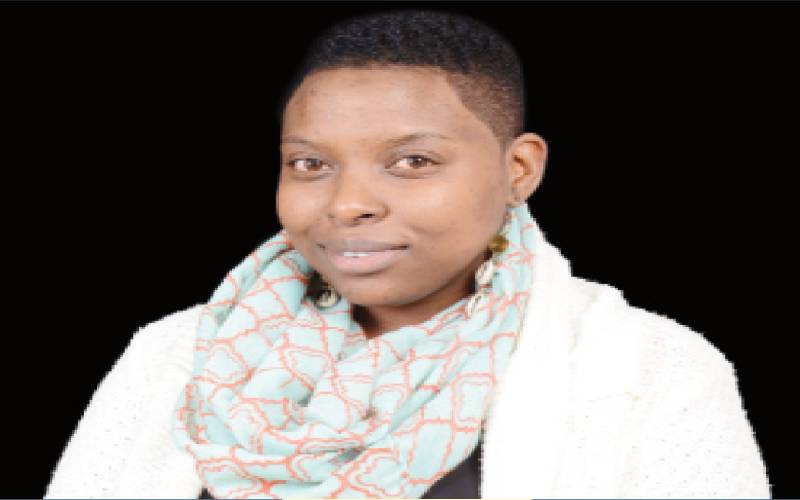 "I shut my business down, not because it wasn't working, but because I needed to save my son from a situation that was detrimental to his wellbeing," starts Nzisa Waki. The massage therapist describes this period as "one of the most painful times of my life. I felt I had failed as a businesswoman and a mother." Nzisa, 34, operated Hisia, a spa, salon and barbershop in Athi River for just over a year before she shut it down to focus on motherhood. It would take another year for her to get back on her feet and revisit her dream of being a massage therapist.
SEE ALSO: From the Moon to Mars: China's march across space
She tells Hustle her story of rising, falling and rising again. The wellness industry in Kenya is fairly young, why did you choose to go into such a niche market? My initial industry of choice was interior design, which I studied in Malaysia in 2006. I didn't finish the course though because I got pregnant and decided to come back home. I changed my course to business administration at the Australia Studies Institute and then tried my hand at farming from 2010 to 2013.
How did you go from farming to wellness?
SEE ALSO: Virus surge sparks South Africa curfew and Spain local lockdown
Even while farming, I was interested in healthy lifestyles, that's why I did organic farming. I planted tomatoes, white onions, butternut and coloured peppers. We made about Sh200,000 to Sh300,000 a month. But I was a young mother and the business was time consuming because with small-scale farming, if you're not physically on the ground, you make serious losses. I wanted something that gave me more time with my son. Since I was interested in wellness, I thought a spa would be a great option for a career move. I took a massage and beauty course and opened my spa, Hisia, in 2016.
Why Athi River as a location?
I knew the area already, and Nairobi seemed saturated. There wasn't really any high-end spa in the Machakos direction.
How much did you put into the business?
SEE ALSO: Coronavirus leaves Spain's interior a tourist desert
It cost Sh1 million to set it up and pay rent for a year. We were doing well for a new business, turning over Sh150,000 to Sh200,000 a month. It took a toll on me though, I was working Sunday to Sunday, hardly eating or sleeping.
What were your main challenges?
Our prices were higher than most other outfits around us because we wanted to offer better quality. We would get customers coming in and then refusing to pay because they hadn't anticipated a bill that high. They'd tell me, 'but it costs Sh500 down the road'. I had to explain that we used superior products, offered specialised services and so that reflected in our prices.
Did you eventually get the clientele you wanted?
It was always 50/50 because Athi River has varied income brackets, but yes, we got some good repeat customers. Our other challenge was the misconstrued perception of what a massage spa is and does. I actually got calls or texts from women in surrounding neighbourhoods accusing us of stealing their men. Some even came in to check out the place.
How did you handle this?
I knew our reputation would eventually speak for itself because we were above board. I could have dealt with all these things, but what I couldn't deal with was the visit I got from one of my son's teachers who told me that my eight-year-old wasn't doing well. His father and I were separated, and he'd been living with his father in Nairobi. I would only see him over the weekends when his father brought him to Athi River. Even then, most of the time I was so busy I hardly spent time with him. I learned from his teacher that my son was extremely unhappy with his living conditions. He had lost an extraordinary amount of weight and was beginning to fail his classes. The most painful thing for me was that I hadn't noticed any of this. After that visit from his teacher, I dropped everything and went to be with my son in Nairobi.
Did you have a plan?
No. I put the equipment in storage and moved in with my parents because without the spa, I wasn't earning any money. For a year, I focused on nursing my son back to health, trying to heal what had broken in him.
You walked away from a business you had worked hard to build. Did you ever regret it?
No. The choice at the time was very clear: save my son or save my business. I chose my son. I did go into depression because I felt I had failed as a mother and a businesswoman.
How did you bounce back?
I think I'm still in the process of doing that. After the first year at my parents', I went back to massage therapy, doing house calls. I only got 20 clients in 2018. And then in February this year, a friend introduced me to this site, Lynk, which connects customers to practitioners like massage therapists, beauticians, carpenters, tailors, you name it. How it works is you apply to be listed on their site, and if they accept your application, any time a client in your locale asks for a service you offer, they connect you to that client. I went from 20 home visits a year to at least three a week. On some days, I've had six clients back to back.
What are your charges?
I charge Sh3,000 per hour for a full body massage, Sh1,500 for a facial and Sh3,000 for reflexology. Most clients ask for massages, but I really like to sell the idea of reflexology, particularly to those who don't like massages. Reflexology does the same thing by using the pressure points in the feet. So say, you have tension in your neck or head, we use the pressure points in the big toe to release that tension. If your issue is in your eyes, ears or nose, we use the little toe to fix that problem. The body is amazing like that.
How would you compare doing house calls to running a spa?
Right now, I prefer the house calls. I think that's the best way for me to reorganise and strategise my way forward. It's only now that I look back at what my life was like when I was running the spa that I realise how miserable I was. I'd go home on some nights and cry myself to sleep and not even understand why. Today, I can be on my feet for hours on end and still love my job.
So, what next for you?
I'll do this for a while. Perhaps eventually I'll get back to the spa dream because it's a dream for me still. But this time, I'll know better, so I'll do better, for my business and my son.