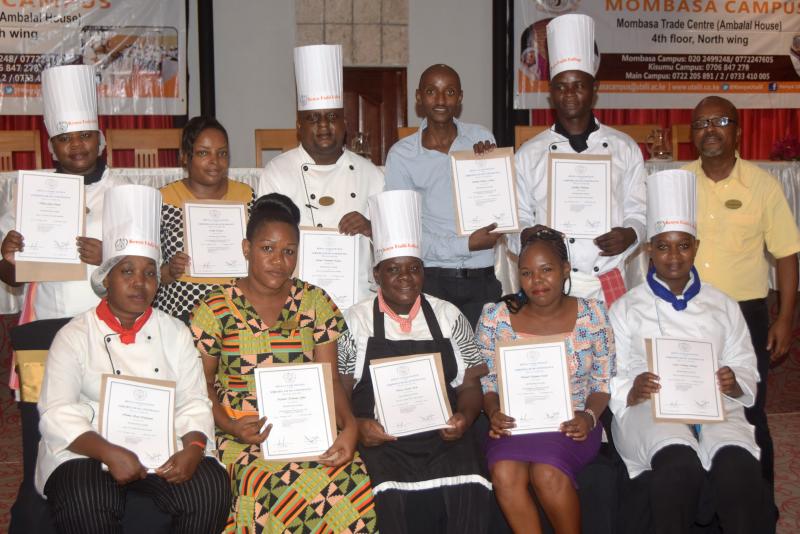 Kenya Utalii College (KUC) has won accolades for its good work in helping professionalise the hospitality industry in the country. Speaking when he presided over the closing ceremony of the South Coast Refresher Course in Kwale County, Mr Ramadhan Bungale who is in charge of Tourism and Enterprise Development said that over the years Utalii College has remained steadfast in its resolve to train manpower in hospitality industry. ''You are doing good work as an institution not just at the Coast but the entire country. Assessing the dynamic trends in this very delicate hospitality and tourism industry and equipping the concerned service providers with the necessary competence, skills and knowledge through refresher course and various other programmes that Utalii offers as a college and which remaining highly commendable,'' Bungale said. Bungale added that the programmes on offer by Utalii College are a great step towards nurturing the growth of Kenya's hospitality and tourism industry.
SEE ALSO: Hotels add safety to menu as economy partially reopens
The CEC told the 145 graduands who completed an intensive two week training undertaking courses in environmental issues, food and beverages control, health cuisine and fine dining ,food and beverage service supervision and housekeeping techniques to put into practise knowledge learnt. ''Knowledge acquired here will ascertain delivery of quality, professional and excellent service to visitors thereby upholding professionalism,'' Bungale said. He challenged industry players to take advantage of training opportunities and skilled labour that the government has availed through the Kenya Utalii College. Utalii College Principal and Chief Executive Officer, Mr Hashim Mohamed lauded industry players for giving the courses first priority and according permission to their staff to attend the trainings. ''Refresher courses target employees of the hospitality and tourism industry in an endeavour to polish their skills and bring them up to date with current trends,'' he said.