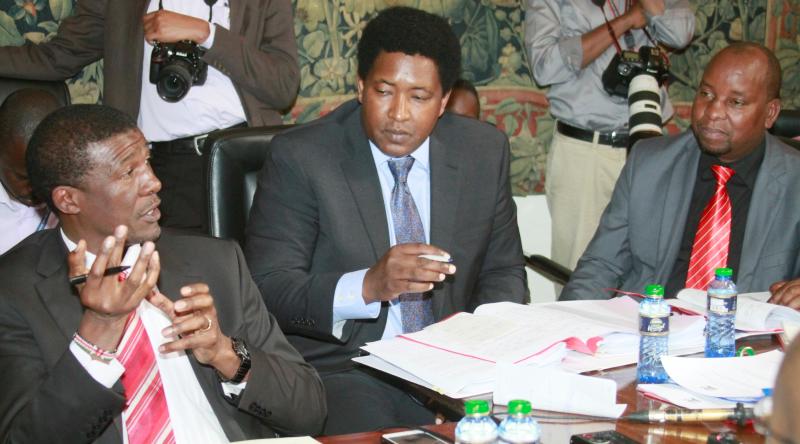 The Treasury has defended the controversial 16 per cent VAT on fuel, saying suspending it for two years would cut funds for education, healthcare and other key capital projects.
Chief Administrative Secretary Nelson Gaichuhie and Energy Regulatory Commission Director-General Robert Oimeke yesterday told the Senate Energy Committee that they were not aware of any court order halting the implementation of the new tax.
Mr Gaichuhie and Mr Oimeke said both the Treasury and the regulator had yet to be served with the court order that directed the 16 per cent VAT tax on petroleum products be suspended pending President Uhuru Kenyatta's decision on the Finance Bill, 2018.
Gaichuhie asked why there was public uproar over the tax, citing wide participation before the tax was introduced through the VAT Act, 2013.
The CAS made the remarks against the backdrop of a high-profile engagement involving the presidency, Treasury and Parliament.
He later told journalists that National Treasury Cabinet Secretary Henry Rotich was yesterday at State House, after Tuesday's day-long meeting that was chaired by Uhuru.
Details of the engagement, however, remained unclear, but Gaichuhie said the talks were making progress to resolve the fuel crisis.
The Finance Bill, 2018, has yet to be submitted to the President. Sources said this was a scheme to buy time and give the ongoing discussions a chance. Once the Bill is submitted to the President, the law requires him to either assent to it or return it to the National Assembly with a memorandum.
The Executive is said to be adamant about retaining the VAT on petroleum products as well as other tax measures MPs rejected.
Narok Senator Ledama Olekina questioned why the ministry chose to heavily tax fuel instead of luxury commodities such as cigarettes and alcohol.