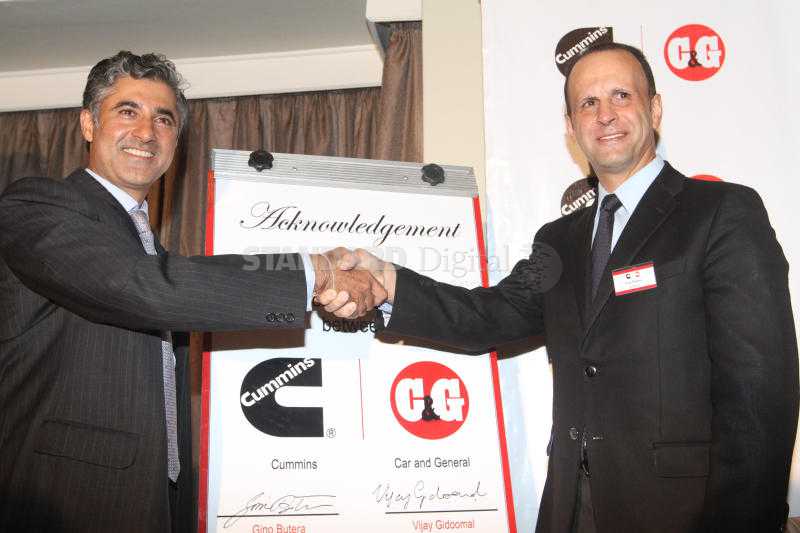 As the Kenyan middle class continues to grow, according to recent reports, statistics show that the number of vehicles on the roads has also increased. Despite this growth, however, the vehicle industry is hurting.
Car & General, the only remaining auto firm that is listed on Nairobi Securities Exchange (NSE) shares this fate. Its fortunes have been on a downward trend.
Since 2013, its profits have been dropping. In 2016 saw it leave a nine-digit profit, making it the worst return since 2007.
During that period, its profits dipped by a third to Sh88.9 million. In 2013, its profits had hit a high of Sh315.8 million.
Its latest profit means that it has eroded 72 per cent of its earnings in four years. Commenting on the performance for the year to September 2016, company chairman Nicholas Ng'ang'a described the year as having proved "extremely challenging."
He noted that volumes in the consumer business of two wheelers and three wheelers were curtailed by government regulations. The national government introduced excise duty on two-wheelers while Mombasa County banned three wheeler registrations for four months. Such has been the environment of business for most of the vehicle firms.
National Treasury also has been giving and withdrawing incentives, sometimes making business planning a task. Starting January this year, the government proposed to provide a lower corporation rate of tax of 15 per cent for the first five years to companies whose business is the local assembly of motor vehicles.
According to audit and advisory services firm Deloitte, this measure is intended to incentivise motor vehicle assemblers and attract other similar businesses into Kenya. "The expectation is that locally assembled motor vehicles will become affordable, making locals shun imported second-hand vehicles," noted Deloitte.
Restart production
Taking advantage of this incentive, international companies are knocking at doors of Kenyan customers. Japan's Toyota and Isuzu already have a presence in the country. Peugeot announced plans to restart production in Kenya while Germany's Volkswagen also opened a new product facility late 2016.
The State has a 35 per cent stake in the Thika-based assembly plant that has set a target to assemble 1,000 cars annually.
Motor dealer DT Dobie thinks the Sh1.65 million Volkswagen Polo Vivo five-door hatchback that is displayed at the DT Dobie showroom in Lusaka Road can win the hearts of Kenyans from second-hand vehicles.
DT Dobie had good old days during Jomo Kenyatta and Daniel Moi's regimes. That time, government officials used to ride Mercedes vehicles, lifting sales for the dealer. As Volkswagen comes to town, DT Dobie will be hoping government brings business their way. "With the opening of this facility, I expect to see a lot of VW Government vehicles. I hope the county governments will also buy Volkswagen cars," President Uhuru said during the launch.
However, standing in the way of this grand plans is Kenyan's love for second-hand cars.
Kenya's total vehicle fleet is slightly above 1.3 million, meaning that in every 1,000 people there are about 29 vehicles.
However, majority of these vehicles are second-hand, sold by dealers and online platforms such as Cheki. The demand for vehicles is about 100,000 vehicles in Kenya. Last year, Kenya Motor Industry Association data put the total sales at 10,700, being just 11 per cent of the total demand.
Using agents alone, a Japanese auto dealer, AA Japan, has recorded increased sales in second-hand vehicles sector for the last three years.
From 3,000 units in 2015, the firm sold 4,800 units last year, an increase by 60 per cent.
Against this backdrop, AA Japan has opened an office in Nairobi early this month to reap from the booming second-hand car importing business.
Company chairman Hameed Ramzan looks at boosting the dealer's sales further since its customers have been relying on making online orders.
Toyota Tshusho, a subsidiary of Toyota, also has an office along Mombasa road, Nairobi to promote second-hand car sales.
According to Isuzu East Africa Managing Director Rita Kavashe, second-hand vehicles slow motor vehicle industry's growth.
"When you compare to other countries where the automotive industry has grown, there is no presence of secondhand vehicles there. That is a challenge for our industry in terms of utilising the capacity that is already installed in the region," she says.
Ms Kavashe observed that customers are not keen on after-sale services that come with buying new vehicles. Her firm is rolling out a seven-tonne truck to take advantage of tax incentives.
Initially, the firm used to import it. Isuzu will be producing this product in its Nairobi factory and Ms Kavashe thinks this will help pass incentive to customers.
"The new vehicle that we are assembling here is part of our efforts to try and produce more locally, because when you produce locally, you have duty advantage," she reckons. While the market looks lucrative, the vehicle companies have not been at their best, at least going by the recent past. In 2015, CMC delisted from NSE amid outcry of investors in the wake of reduced earnings and a plunge in share price.
The company may have managed a low profile following delisting but Capital Markets Authority (CMA) did not let it off the hook immediately.
In its latest report, CMA has lifted the lid on the past dealings that saw it smoked out.
CMA notes that there was a scheme involving over-invoicing on the importation of vehicles into Kenya by CMC.
The regulator has disgorged Sh131.1 million from former directors of the Company. According to CMA report, the firm operated various off-shore bank accounts for purposes of channelling the margins from the over-invoicing for the benefit of select former key officers of CMC Holdings to the detriment of the company and its shareholders.
Last year, Marshalls East Africa followed suit by limping out of NSE. It had suffered back to back losses, posting Sh17.4 million loss in 2016. "Marshalls has declared losses for a number of years. In order to reposition the business to face these challenges, the board has recommended that the company seek to delist from the NSE," the firm announced before it commenced delisting.
Last year, tyre-maker Sameer Africa, was removed from the automobile and accessories class and placed in commercial and services category.
This was after the firm opted to close its Mombasa road tyre manufacturing plant to start importing tyres. The company has been in losses since 2014, with its decision to close the tyre manufacturing plant yet to lift it back to profitability.
Kenyans love for second hand vehicles has extended to cheap importation of tyres which muscled out Sameer Africa from the market. In 2016, it posted a loss of Sh652 million, being wider by 417 times compared to the Sh15.7 million loss posted in the preceding year. It had grown its bottom line consecutively since 2010 to a peak of Sh401 million in 2013.Then a streak of losses set in.
After more than 40 years of trading in East Africa, General Motors exited the region last year - after it sold its entire 57.7 per cent stake in General Motors East Africa (GMEA) to Isuzu Motors Ltd at an undisclosed fee.
Kenya Motor Industry Association data shows GMEA sold 4,858 units in 2016, down from 6,690 units sold in 2015.