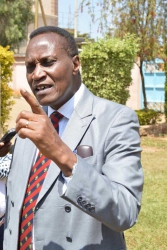 NAIROBI, KENYA:
Thousands of land and property owners could lose their prized investments as an official audit has exposed irregularities in 180,000 land leases. A Government-appointed team has recommended that 10,698 leases running into thousands of hectares spread across 24 counties renewed between 2010 and 2012 be revoked. Laikipia County, which has witnessed bloody conflict following invasion of private ranches by armed herders, is among regions where leases were granted during that period. In addition, 173,326 files have scanty records, which means genuine land owners are at risk of losing their property to fraudsters or corrupt officials could have illegally allocated the land.
SEE ALSO: KRA manager, wife arrested over unexplained wealth
The report details leases for hundreds of thousands of hectares of land worth billions of shillings that have expired and warns about opaque renewals and extensions facilitated by corrupt officials. A task force formed by Lands Cabinet Secretary Jacob Kaimenyi in February to investigate the processing of extension and renewal of leases in the country since 2010 presented the report last week. Exact status It indicts some employees at the Lands ministry and Survey of Kenya for messing up the land sector citing in certain cases that some registrars, despite being the custodians of land records, did not know the exact status of leases in their areas. The task force has recommended that leases renewed from 2010-2012 before establishment of the National Land Commission and county governments should be revoked.
SEE ALSO: New app spells end for insurance fraudsters
It notes that from the review of the correspondence files that most of the renewals and extensions done within this period either did not follow the full process, or have some documents missing in the files. "This task force considers any extensions and renewals that did not follow the law in the period 2010-2012 as it was, are illegal/irregular. Renewals and extensions that were fraudulently procured are unlawful and should be revoked," reads the report. Citing records from the Survey of Kenya, the report gives a breakdown of the targeted 351 leases renewed or extended since 2010, with most of those set to lose investments in urban centres where land is expensive. Nairobi County has the highest number at 290. There have been reports of people being evicted from their houses in prime locations in the city following leases being renewed behind their backs.