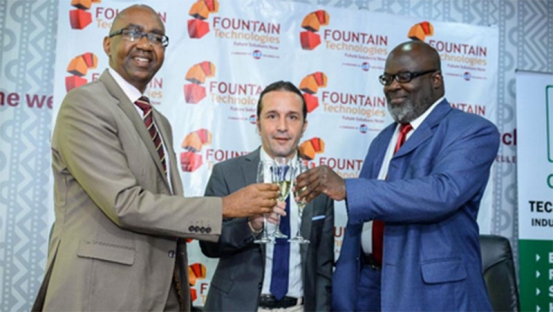 NAIROBI, KENYA: Fountain Technologies Ltd (FTL) has entered into a strategic business alliance with Ferri Group, a Luxembourg based company, which will see the two companies jointly bid and tender for industrial and electrical projects.
This will be done under a profit share agreement on a project by project basis for any amounts up to US$ 100 million per transaction, with an option for Ferri Group to acquire minority equity stake of about 30 percent in FTL within two years' time. The strategic alliance will enable the two businesses to jointly pursue and develop energy infrastructure projects in the region.
The deal was signed a few months after FTL, a subsidiary of FEP Holdings, announced that it was seeking a strategic and financially endowed investor to help the firm bid for multi-billion shilling energy and telecoms infrastructure projects in the region.
"Through this alliance, we intend to capitalize on existing sales networks and marketing for the distribution of Ferri Group and FTL product lines, as well as increase access to International lines of credit with reputable, global financial services providers," said Maurice Korir, the FEP Holdings Chief Executive Officer.
He said the strategic alliance would help improve FTL's absorption of costs, through leveraging on Ferri Group's global and trusted network of affordable and quality supply chain. "Big-ticket energy and infrastructure projects have high margins but are capital intensive", he noted.
With the financial muscle and efficiency that Ferri Group brings on board, we are projecting additional yearly revenues for Fountain Technologies of up to US$ 10 million by 2020," revealed Mr. Korir.
FTL is currently implementing energy and telecoms infrastructure projects across the region worth over Sh2 billion. In Kenya FTL was among one of only two Kenyan firms who were awarded Rural Electrification Authority (REA) contracts to extend electricity supply to 591 public facilities and 35,460 households in 16 counties under the BADEA project. The remaining 80 percent of the project was awarded to international companies.
For the most recent KPLC last mile project more than half of the tender amount awarded went to international companies with the remaining amount being distributed across nine local companies.