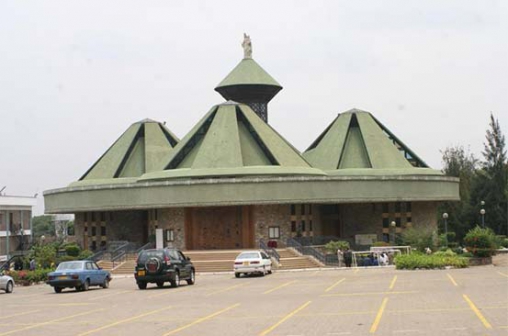 When the winners for the Architectural Association of Kenya's Duracoat Awards of Excellence in Architecture were announced there were a few things to note. Planning Systems Services were the biggest winners of the night, taking home six awards, emerging first in four, second in one category and third in another. Triad, arguably the architectural firm that built Nairobi, took one award. Today we take a look at some of the winning projects and the architects behind them.
Planning Systems Services Limited
The architectural firm Planning Systems Services won four awards in the just-concluded Architectural Association of Kenya's Duracoat Awards of Excellence in Architecture: The Best Commercial Building Project, Best Educational Institution Project, Best Health Care Project and Best Urban Design and Town Planning Project.
Best Commercial Building
Project: Kenya Commercial Bank Headquarters, Upper Hill, Nairobi
The 25-floor building with a total of 23,600 square metres of built area is among the first green towers in the city. It is fully sunshaded through vertical and horizontal aluminum fins and does not rely on mechanical cooling systems. The atrium allows maximum daylight through high light transmittance glass.
Eric David Loki is in charge of building design and construction supervision at the firm. He has specialised in sustainable and low energy building designs and was instrumental in putting up the new KCB building. His other works in this area include the proposed I&M Bank building in Kigali, Rwanda, that is also set to join the league of green buildings in East Africa.
Read More
Best Educational Institution Project: Braeburn School, Garden Estate, Nairobi
The school was built up from an existing school which was bought by Braeburn. Planning Systems Servicesoversaw the construction of new facilities with a number of existing buildings being renovated to accommodate the new school. One of the unique structures here is the main assembly hall, the nursery school which was converted from an existing high school teaching block, high school classrooms, staff apartments, dining hall and kitchens, dormitories and sports hall.
Trevor Andrews, one of the company's co-founders, was the lead architect behind the school's new developments. Andrews has over 40 years experience in architectural work in East Africa.
Best Health Care
Project: Pamoja Shell of Steel
This is a simple, steel fabricated but highly functional structure that can be erected with ease. Almost all its materials can be recycled thus saving the environment. The design can be incorporated in low-cost homes or public utility buildings. Several prototypes have been erected in several areas of the country.
The lead architect, Jim Archers, co-founded Planning Systems Services together with Trevor Andrews in 1978. He graduated from Oxford School of Architecture before returning to Kenya in 1961. He was the author of Intervention 2004 Nairobi City: Regeneration, a major contribution in the drive to regenerate Nairobi.
Best Urban Design and Town Planning
Project: Nairobi Intervention Masterplan
The project involved the restoration of the Nairobi River Basin Project, the Uaso Nyarobe Waterfront Development and the restoration of the Nairobi Dam. The architectural firm proposed a plan to restore Nairobi's waterways to a thriving commercial hub by, among other things, rehabilitating abandoned and dilapidated quarries while restoring natural wildlife. The architect leading the team is Planning Systems Services managing director Mumo Wasua whose work focuses on building design, urban regeneration and sustainable development.
Planning Systems Sevices also came third in the Best Hospitality Industry Project with Sultan palace retreat in Kilifi and second in the best Concept category with Nairobi's Kipande Road Zoning.
Dimensions Architects: Enashipai Resort and Spa
Dimensions Architects and Interior designers, whose slogan is 'Committed to Innovative Architecture', won the Best Hospitality Industry Project category for Enashipai Resort & Spa. The firm, whose portfolio includes designing the new court at the iconic All Saints Cathedral, has been in existence for 22 years and has offices in Kenya, Uganda and Rwanda.
"The win is recognition that we are doing a good job with our innovative architecture," said Lee G. Karuri, a director. "It gives us motivation to do more and to think outside the box."
Apart from Enashipai, Dimensions has also been involved in designing the Satao Elerai Resort just outside Amboseli National Park, apart from working on Brookhouse School and residential projects like Muhugu Gardens, Runda Park, Mageta Villas and Singita.
Karuri is also the chairman of Ethics and Practice in the Board of Registration of Architects and Quantity Surveyors of Kenya. Karuri works with Architect Chema Katua, who practises across the region.
Dimension's interior designs department is headed by Charity Kamau, also a director. Charity graduated from the American College for the Applied Arts, Atlanta-Georgia, in 1992, with a bachelors degree in interior design. She has worked as an interior designer for 18 years.
Another project by the firm, All Saints Trinity Center, Nairobi came third in the Best Cultural Building category.
Beglin Woods Architects: Nova Apartments
Located in the heart of Westlands in Nairobi, Nova Apartments offers lavish living and delightful amenities such as outdoor and indoor heated swimming pool, gym, spa, jogging track, games room and cinema room.
The project consists of 17 levels of luxury residential apartments, located on Muthangari Road. It has an area of between 83 square metres and 91 square metres. The project is worthy $14 million (Sh14billion) and is being designed by Beglin Woods Architects.
The project won Best Concept/Ongoing Project in the AAK Duracoat Awards of Excellence 2016 due to what the jury said was "very inspiring architecture, carefully planned in a lot of detail despite being on a tiny piece of land". Beglin Woods is a partnership of David Beglin and Simon Woods, who are the principal designers.
Some of the completed hotel and office complex projects the company has worked on are Mayfair Hotel, Sankara Hotel, Norfolk Hotel, Hemingways Hotel, Buffalo Springs, Simba Lodge, Naivasha and Mount Kenya Safari Club among others.
The firm came second in two categories: Best Commercial Building Project with The Watermark Karen and in the Best Hospitality Industry Project category with Naivasha Simba Lodge.