Pain as multinationals axe hundreds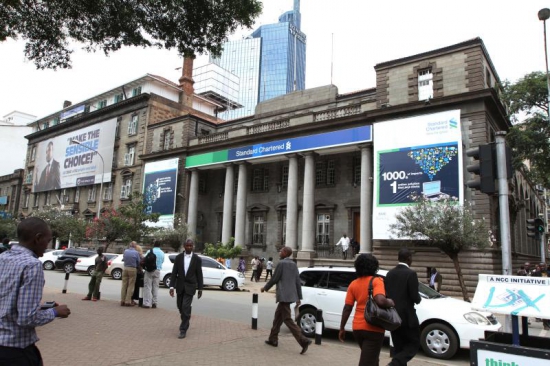 Chances of getting employment this year looks slimmer as several multinationals restructure and some, especially those in manufacturing, exit the country.
This spells doom to an economy that is struggling to create jobs.Analysts say the effect of the slowdown in the US, European and some Asian economies, could have hit multinationals. The International Monetary Fund (IMF) lowered its forecast for global economic growth in 2015 to 3.5 percent and 3.7 percent for 2016. It cut its forecast by 0.3 percentage points for both years.
It blamed the looming recession in Russia and slowdown in China for the gloomier outlook, warning that the negative effects would outweigh the boost from lower oil prices. IMF placed China at its slowest growth rate of 7.4 per cent below the government's 7.5 per cent target - the first time the official target has been missed for 16 years.
Standard Chartered, Coca-Cola, Tata Chemicals Magadi, Nestlé, Sher Karuturi and Cadbury, have announced plans to lay off staff.
London headquartered Standard Chartered PLC's plan to cut 4,000 jobs globally could spill over into local subsidiaries as the lender restructures its retail business. The bank anticipates this will save it $200 million (Sh18.2 billion) in costs this year. Lauren Callie, regional head of business communications, Africa at Standard Chartered Bank said the group is looking to close 80 to 100 branches – to be drawn from across its global franchise. "Our intention is to focus on cities that will experience significant economic growth in the future. As our clients and the world go digital, our branch transaction traffic is decreasing, so we are evaluating how we should reformat our current branches to deliver to our aspiration," said Callie. She however declined to explain how the African units, Kenya included, will be hit.
She said that over the past three months, as part of the lender's retail client re-organisation, they have made 2,000 job cuts from their retail client segment, internationally. "We are aiming to have a leaner organisation as we shift towards the new model. Over the balance of the year, we expect to reduce a further 2,000 jobs internationally - primarily by not replacing staff when they leave. Again, we are unable to provide a geographic breakdown of these numbers, but will provide details when all the relevant stakeholders have been engaged across our international footprint," she told Weekend Business.
Another multinational, Nestlé, a few weeks ago sent home 46 employees in its Kenya and regional hub. Also, last year, more than 300 people lost jobs following the closure of Cadbury Kenya's plant. And on October 1, 2014, a further 99 lost their jobs after the 47-year-old Eveready East Africa, the biggest dry-cell battery maker in the region, shut its Nakuru factory.
Oil price drop
Take a quick survey and help us improve our website!
Take a survey
In September, banking giant Hong Kong Shanghai Banking Corporation (HSBC) formally exited Nairobi, three years after it set up shop in the country. On May 30, 2014, Tata Chemicals Magadi announced that it was scaling down operations by closing down its main factory, leaving more than 200 permanent workers jobless. The soda ash manufacturer owned by one of India's largest companies cited high energy costs for the closure.
More firms, analysts say, could exit the country because of a harsh investment climate. Already, blaming high production costs, Reckitt & Benckiser, Procter & Gamble, Bridgestone, Colgate Palmolive, Johnson & Johnson and Unilever, have all relocated or restructured their operations, opting to serve the local market by importing from low-cost manufacturing areas such as Egypt.
Colgate Palmolive ceased manufacturing in Kenya in 2006. It tendered out its plant after a review of its marketing and distribution operations. Reckitt Benckiser, a home and personal care giant, closed its manufacturing plant in Kenya and contracted Orbit Chemical Industries Ltd to produce its household brands such as Jik, Dettol and Harpic.
Aly Khan Satchu, investment analyst, says the recent round of lay-offs, which included so many multinationals is significant.
"The slew of job losses indicate serious near-term weakness," said Satchu, also a licensed NSE data vendor. He added that, "I remain optimistic about the medium-term and there have been notable successes, particularly in the export processing zones/AGOA/textile sector."
He said that there is weak consumer demand, which is expected to improve dramatically once the Energy Regulatory Commission passes through the oil price drop in full. Also, a degree of policy making unpredictability have not been helpful. "We need to seriously address and arrest the trend," he added.
Senior Lecturer at the University of Nairobi's School of Business, Dr X N Iraki, says the effects of the slowdown in the US and European economies is finally being felt. "Labour is one of the highest costs in any firm and the most flexible and dispensable," Iraki said. However, he notes that local firms might not be affected as much because they are shielded by inefficiencies and bureaucracy, sentiments echoed by bosses of local manufacturing companies. There could be a reprieve due to the oil price drop. "The fall in oil prices will create demand for goods and services as a result of savings from lower transport and energy costs. This could reduce job losses," Dr Iraki adds.
Polycarp Igathe, the MD of Vivo Energy Kenya and Vimal Shah, the CEO of the BIDCO Group, believe the multinationals exit due to their non-resilience to recession. "At BIDCO, we are expanding. The lay-offs are just an excuse," said Shah during a Kenya Private Sector Alliance (KEPSA) meeting with business editors on Wednesday. Igathe added that, "That's why Vivo Energy bought Shell operations in Africa, because we understand Africa better."
An ailing economy that is still struggling to attract and retain international firms, Kenya may have to review this latest development that could greatly hamper job creation to thousands of unemployed youths. While the Economic Survey 2014 claims that the total number of those engaged in both formal and informal sectors increased from 12.8 million in 2012 to13.5 million in 2013, translating to 742,800 thousand new jobs, economists say the closures and exiting of firms could see this number drop by more than 50 per cent this year. Perhaps this is why Kenyans are apprehensive.
Tax incentives
Unemployment rate in Kenya now stands at an average 45 per cent. In its manifesto, the Jubilee administration promised to create one million jobs annually. This, it said, would be made possible by growing the manufacturing sector through tax incentives and extending grants to international companies to establish industrial plants in the country to supply the wider East African economy.
But two years after Jubilee assumed power, the business community and the youths are frustrated. Insecurity and corruption are rife. In addition, the cost of energy is still high, slowing the growth of manufacturing, one of the crucial sectors of the economy. The youths, who understood they would find employment through the reviewed public procurement policy, claim the process is bureaucratic, opaque and favours the rich. To them, the same old dogs still control public sector tendering through proxies.