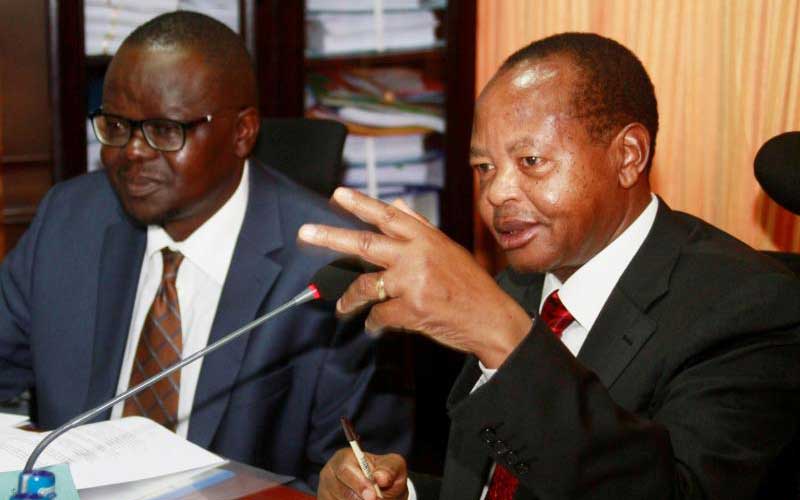 Senators have picked a fight with Cabinet Secretaries who they feel are not taking them seriously by failing to honour summonses by House committees.
Yesterday, members of the Senate Energy Committee raised concerns after several CSs failed to meet with the committee or respond to the queries that senators had raised.
The discussion yesterday followed several instances where Petroleum and Mining CS John Munyes did not appear for several meetings with the senators.
At one point, committee Chairman Ephraim Maina adjourned the meeting despite the presence of other Ministry officials. He followed this up with a summons to the CS to appear and explain himself.
Read More
Mr Munyes, however, said his failure to show up was because he was recently bereaved.
While the senators agreed to cut the CS some slack, they also faulted him as he did not provide answers to their questions and instead asked for a week to prepare.
"In as much as we understand the compelling reason why the CS has failed to show up in the previous meetings, there is no reason why the documentation has not been provided," said Nominated Senator Abshiro Halake.
The Petroleum CS was expected to explain a number of issues on the Kenya Pipeline Company, including the progress of installing a leak detection system on the new Mombasa-Nairobi pipeline.
The pipeline reported a leakage soon after it was commissioned.
"Cabinet Secretaries have been ignoring our calls (to appear before committees of Parliament). There is a general feeling they do not understand functions and powers of the committee which are the same as those of a High Court," said Turkana Senator Malachy Ekal.
"We have been sitting and wasting government resources… we had expectations today that we would get responses," said Bomet Senator Christopher Langat.
On Wednesday, the Senate Committee on Lands, Environment and Natural Resources adjourned after Lands CS Farida Karoney failed to show up for the virtual meeting.