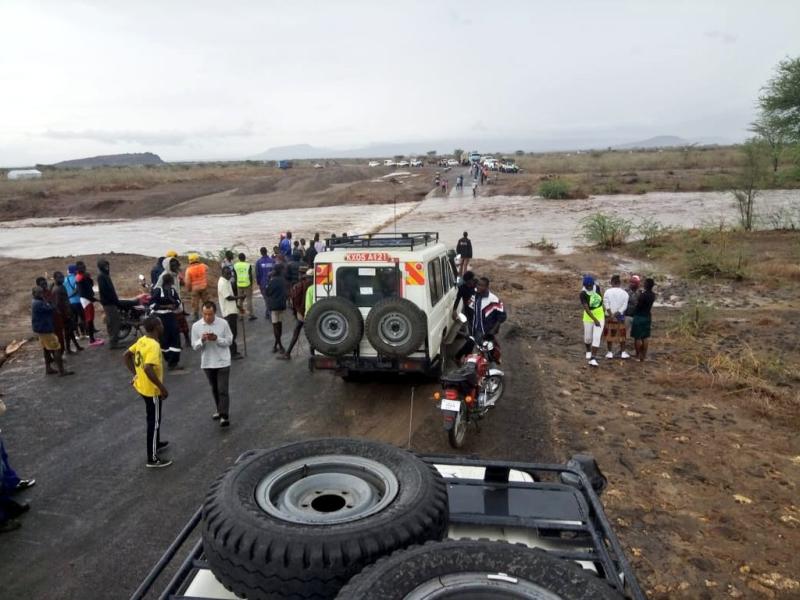 LODWAR, KENYA: Transport was on Tuesday paralysed along Lodwar-Kakuma road in Turkana County following a heavy down pour.
Motorists had to park their vehicles by the roadside as water cut through the road.
Kenya Red Cross officials in the region challenged motorists to exercise caution insisting that they should not cross at the 'lagar' when it heavily rains.
"We received heavy rains in the area that has led to overflowing along Kakuma road. Motorists should not cross the raging floods, they should wait for it to subside as part of their own safety," said Mr. Nick Thuo Kenya Red Cross official in the area.
He further observed that the region has started experiencing lightning while cautioning locals against taking shelter under trees or walking during the rains.
The heavy rains that continued on Tuesday caused excitement in a region that has been hard hit with drought.
"The rain is timely to our region which had initially been ranked as among the worst hit by the dry spell. The temperature has decreased from 40 degrees Celsius to current 23 Celsius," said Joseph Ekwam a resident.
Daizy Ejem a resident said water sources will be replenished making it possible for regions that engage in farming to plant crops.
"It is a big boost especially for areas whose boreholes had dried. The water levels will rise and livestock will have plenty of pasture while locals will not trek to neighbouring countries in search of food," she noted.
According to the Meteorological department, the rains will continue to be felt in most parts; locals anticipate getting pasture and water for their animals.
Turkana County Commissioner Mr. Muthama Wambua said they have put measures in place in case the rains continue to pound and lead to floods.
"Our officers are also on standby in case of any flooding and our message is to the public to stay indoors when the rains persist," he added.
In Uasin Gishu County, farmers made a mad rush to purchase seeds and inputs in order to make use of the current rains. They said the change in weather patterns has delayed their planting program.