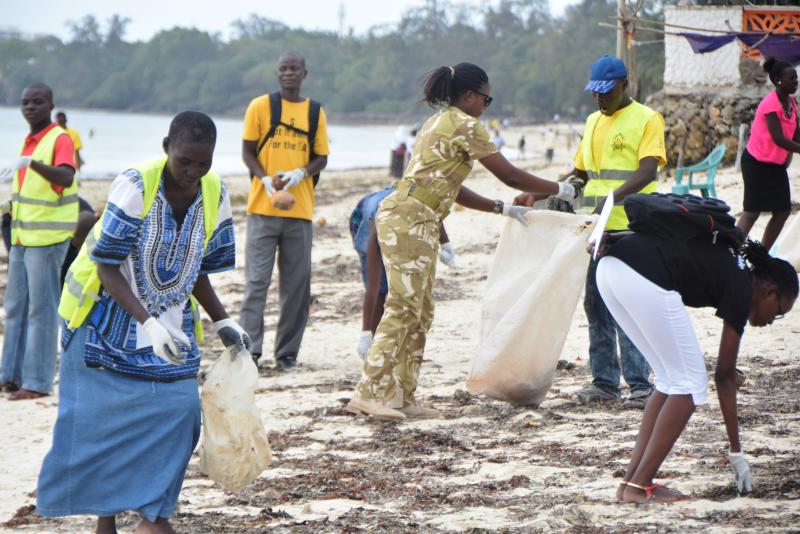 Business at the busy Jomo Kenyatta Public Beach, Mombasa County came to a standstill as a dhow made entirely out of plastic waste sailed into the shallow waters.
Hundreds of people from all walks of life thronged the beach to witness the arrival of Flip Flopi, the dhow covered with around 30,000 re-purposed flip flops after it arrived from Lamu Island where it had sailed off on January 24, 2019.
The dhow is on a sea voyage and will sail up to Zanzibar, stopping at various Coastal towns sending the message on plastic recycling.
Mr Ben Morrison, one of the people behind the idea to come up with the Flip Flopi dhow said that the sea voyage across the Indian Ocean Coastal settlements is aimed to kick-start what has been dubbed as the 'plastic revolution' in both Kenyan and Tanzanian Coastal communities .
Flip Flopi also has 10 tons of locally recycled plastic that were used to make the boat.
Read More
''The Flip Flopi will make stops at Watamu, Kilifi, Mombasa, Diani and Pemba island, to teach local communities, school children, and government officials how to recycle their own plastics and raise awareness of the destructive nature of single-use plastics,'' Morrison said.
He said that the sea voyage has been made possible with assistance from the UN Clean Seas campaign which has worked to urge governments, businesses and citizens to eliminate single use plastics for the last decade.
Shipping and Maritime Affairs Principal Secretary, Nancy Karigithu and her counterpart from Environment, Mr Ali Noor Ismail expressed government's desire to help those behind the initiative .
'' We salute the local boat builder, Mr Ali Skanda and his team of dedicated members who effortlessly made it possible to have this dhow sail the waters and serve as an example to the world that there can be useful things coming out of waste,'' Karigithu said.
On his part, Noor who represented Environment Minister, Keriako Tobiko said that as a government, they remained committed to helping local innovators like Skanda who pursue a highly innovative angle for environmental conservation.
Skanda himself, who doubles up as the Captain of the dhow said that he was great to God for having enabled them sail the otherwise choppy waters to Mombasa.
Ms Juliet Biao, United Nations Environmental Programme (UNEP) Regional Director for Africa who was also present at Jomo Kenyatta Public Beach hailed the Fli Flopi innovation as a first not only for Africa but the whole world.
'' This kind of innovation has put Kenya on the world map. We wish to assure all those behind this grand project of using traditional knowledge of our support going forward,'' she said.
Mombasa County Executive in charge of Environment, Dr Godfrey Nato said that the county administration was delighted to be part of the history making in receiving Flip Flopi.
''We join the rest in welcoming Flip Flopi and hope that our own investors will learn and come up with similar initiatives to save our environment,'' he said.
Tourism Chief Officer at the County Government of Mombasa, Mr Innocent Mugabe said that the arrival of Flip Flopi in Mombasa was a blessing in disguise.
'' The County Government of Mombasa and the National Government are collaborating to turn around the fortunes of the Jomo Kenyatta Public Beach by upgrading it to international standards meeting all the environmental regulations,'' he said.
Mugabe said that they are keen to have beaches clear of litter in a bid to attract more visitors to the beaches for the sole purpose of relaxation.
Kenya Association of Hotelkeepers and Caterers (Kahc) Mombasa region chairman, Mr Tuva Mwahanga led hoteliers in welcoming the dhow in Mombasa.
Flip Flopi Project leader, Mr Dipesh Pabari said that the coastal voyage aim is to build on the story of this plastic revolution and to continue to highlight to the world that single-use plastic items are dreadful.