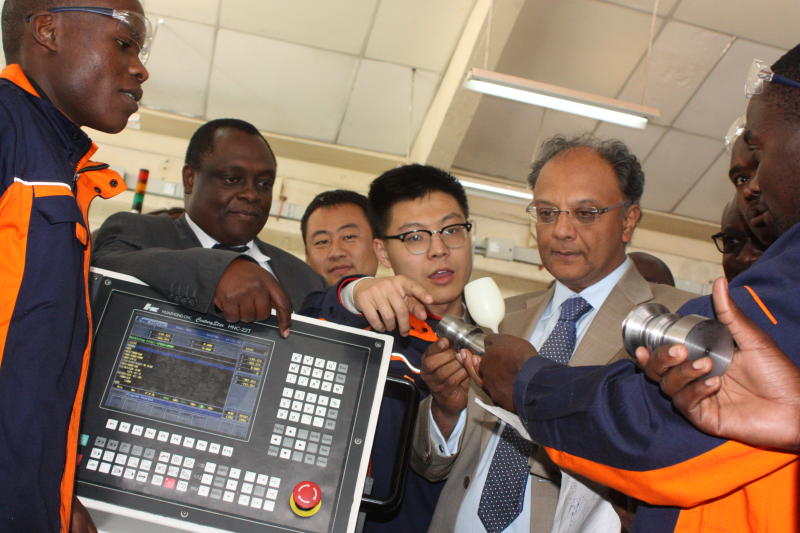 Winners of the Avic International Africa Challenge season 5 have secured export contract to China valued at Sh10 million among other awards.
Mr. William Mutuku, Masinga Technical College, Mr. Kennedy Keptoo, Technical University of Kenya (TUK) and Mr. Johnathan Kiplagat of Rift Valley Technical College emerged tops in the hotly contested Avic International Africa Tech Challenge season 5, winning cash prizes and scholarships.
The top two teams namely TUK and the Rift Valley Technical Training Institute secured a manufacturing contract to supply spare parts to China worth Sh10 million.
Read More
Speaking at the award ceremony to celebrate the winners, AVIC International Holding Corporation Vice President of International Affairs Jin Shaohua noted that the challenge had indeed achieved real impact in the lives of the African youth that it touched.
"As Avic International, we are proud to note that this new cohort of winners, in Season 5, will join the winners from the past four seasons in working with some of the best master craftsmen and engineers that the world has to offer and learn just what has made us one of the largest, most reputable and most efficient firms in the world," said Shaohua.
The Principal Secretary Ministry of Industry, Trade and Cooperatives, State Department of Investment and Industry Ms Betty Maina, who was Chief Guest at the award ceremony highlighted said the partnership was crucial for fostering Kenya's Industrialisation push.
"The government's continued partnership in this program is informed by Kenya's Vision 2030 goal of Industrialisation that will create employment and wealth for the country and the overall move by African leaders to start the march towards a seamless Pan African free trade area. Programs such as these are a necessary part of the push to modernize our economies and maximize trade," she said.
The Africa Tech Challenge (ATC) is a youth empowerment project, which focuses on skills development and empowering the youth from various African states with much needed practical skills.
Driven by AVIC International in conjunction with the Government of Kenya through the Ministry of Education, it seeks to equip the youth with modern technical and thus employability skills.
It advocates for "Made in Kenya" Brand through manufacturing contracts award and aligns itself to the Big Four Action Plan of the Jubilee Government in ensuring that it brings dignity and livelihoods to Kenyan and indeed African youth.
Season 5 brought together teams from five African countries including Kenya, Zambia, Ghana, Gabon, and Côte d'Ivoire. Hosted under the Ministry of Education in Kenya, the initiative has trained 33 teams that saw 150 young men and women from across the continent get specialized expertise.