By Kepher Otieno
Save Our Souls (SOS) President Herman Kutin visited Kisumu and pledged more support to programmes for orphans and vulnerable children.
The visit, which coincided with the Day of the African Child gave hope to needy children.
Kutin said he was touched by the suffering that thousands of street children continue to undergo, but was elated the Government was making efforts to assist these children.
He was impressed that the Bill of Rights under the new Constitution protects children, including those with disabilities.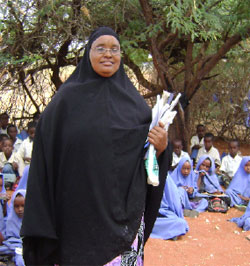 SOS Children Villages International President Herman Kutin is in the country to inspect the organisation's projects. [PHOTO: TITUS MUNALA]
Read More
Children rights are contained in Article 53 in the Constitution, which gives them protection, recognition and spells out penalties for abuse of their rights.
Government's mandate
The Article mandates the Government to deliver health care, education, nutrition to all such children devoid of discrimination.
Friday, Kutin accompanied by SOS Regional Director East Africa Humbler Wilhelm and national co-ordinator Ruth Okowa toured SOS village in Kisumu.
The SOS president appealed to beneficiary communities to work closely with the organisation to take care of orphaned and vulnerable children.
"Without the community's support we cannot go far. We need your help to make us take care of the abandoned children," said Kutin.
He expressed concerns that the number of children's homes continued to peak even as the country's natural resources remained scarce and termed the situation a time bomb. Kutin said that was the reason SOS had embarked on a mission to assist Governments especially in Africa where children orphaned by HIV/Aids was still high.
Wilhelm said unless people changed their behaviour the number of such homes would continue to grow. Consequently, he asked countries to put more emphasis on reproductive health care programmes to control birth rates.
Already, Kutin disclosed that they were spending billions of shillings annually to help affected nations put up SOS villages. In Nyanza, they are putting up a SOS village in Kisumu, which will house up to 150 children. It will have a modern kindergarten, church, recreational centre, primary school and medical institution that will also serve the local community. Friday, they toured the home to inspect the progress, which the village director Dominic Oyugi said was 75 per cent complete.
SOS family strengthening programme manager Joseph Kajwang said the facility would be opened in August.