By MOSES NJAGIH
Kenya Wildlife Service (KWS) has kicked off a massive translocation of buffaloes from the privately owned Solio Ranch in Laikipia.
KWS flagged off the movement of herds of buffaloes from the sanctuary to help reduce competition for fodder and thus help in the breeding of the critically endangered black rhinos, for which Solio Ranch is known.
Assistant Director Robert Njue, who oversaw the exercise, said they intend to move more than 600 buffaloes from the sanctuary to create space for rhino breeding.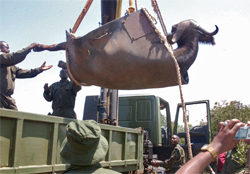 KWS wardens tow a buffalo into a truck ready to relocate the animal to Aberdare National Park. [PHOTOs: Paul Wanjiru/STANDARD

Mr Njue said the exercise would be carried out possibly in three phases, with the first herd being taken to the nearby Aberdares National Park.

"Under this first phase, which we are launching today and to run for the next three weeks, we will be translocating 200 buffaloes, after which we will conduct an assessment to find out the success of the programme," he said.

Where to relocate

Njue said depending on the estimates of the scientific management of population, they will determine where to relocate the other 400 buffaloes to be moved under the other phases.

KWS Senior Veterinary Officer Isack Lekolol, who led in the darting and capture of the animals, said Solio is an ideal habitat for rhino breeding, adding the same is compromised by the excess number of buffaloes, hence the need for translocation.

The Service officer in charge of Rhino Conservation Programme Ben Okita said the undertaking is in line with KWS' five-year conservation programme where they intend to raise the number of the endangered black rhino to 700 by 2011.

"The numbers of rhinos are slowly increasing despite the global challenge of poaching. In Kenya we are conserving a significant number of the black rhino, compared to other parts of Africa," said Okita.

He, however, said the number of rhinos, both black and white, had declined especially at the height of poaching in the 1980s.

"Currently we have a population of 635 and 353 black and white rhinos respectively in the country, while there are only 4,300 black rhinos and 19,000 white ones in the entire Africa," he said.

Solio Ranch, is a fenced, protected area geared toward rhino conservation. The private 17,500-acre Solio Game Reserve, 22km north of Nyeri, plays a major part in preserving and breeding black rhinos. Most rhinos in other parks were actually born here.